Warning: I'm about to say something very corny, right here.
Music Pass will make your heart sing.
There, I said it. Not sorry.
There's a rock formation up on the pass where one can sit all day and not grow tired of the view. It's just one of those places; it's good for the soul.
But I'm getting ahead of myself. Let's start from the beginning.
My oldest daughter has been joining me on some of my hikes this summer, which is the best kind of hike for me! As kids, my daughters were completely disinterested in whatever Dad was doing. So, it's great to enjoy their company now. She came along with me on this one.
There are a couple choices to get to this trail head.
If a person has a 2WD low clearance vehicle, start at the Grape Creek Trailhead and hike 2.5 miles up to the Music Pass Trailhead. It's 15.3 miles (30 minutes) from Westcliffe to the Grape Creek Trailhead at the end of County Road 119 off CO 69.
If a 4WD vehicle with good clearance is available, save the road slog. The 4WD road is narrow and rough in some places, but passable. If a person goes up early in the morning and leaves mid-afternoon there is only a small chance of meeting someone coming the other direction. We took my Wrangler to the Music Pass Trailhead. Score!
From the Music Pass Trailhead, it's a quick 1.2 miles and 750 feet elevation gain to get to Music Pass. Only maybe a hundred feet before the trail crests is a rock outcropping just off the trail. This is a beautiful place to view the entire Sand Creek Valley below. Also, within view are several peaks: Tijeras Peak, Music Mountain, Pico Aislado, and Marble Mountain. It's just stunning! So, sit here and enjoy for as long as you like.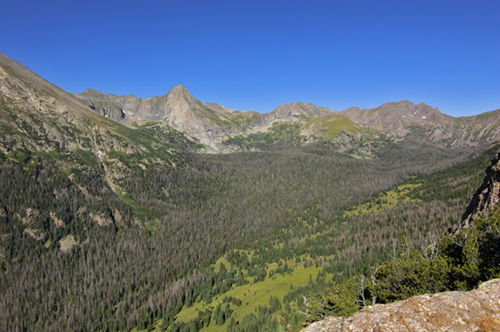 This was not our destination today. We still had Lower and Upper Sand Creek Lakes.
From the pass, it's a descending 1.2 miles to the trail intersection to Lower Sand Creek Lake. Then after crossing Sand Creek, hike an ascending trail another .9 miles to the lake. I'm lost for words to explain what this looks like, so here's a picture (which doesn't do it justice either).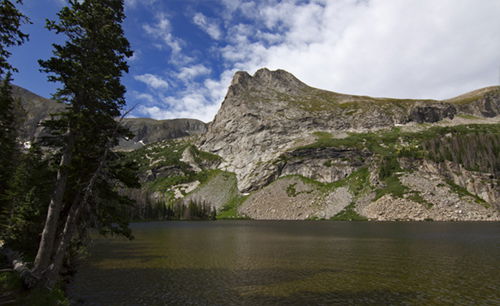 We had a quick stop here for a short snack and to filter some water. Then is was back to the intersection and another 1.6 miles ascending to Upper Sand Creek Lake. The shoreline here is at 11,700 feet surrounded by a trio of mountain bliss: Music Mountain, Milwaukee Peak, and Marble Mountain. It's another amazing setting that can neither be described or photographed to match the experience of being there!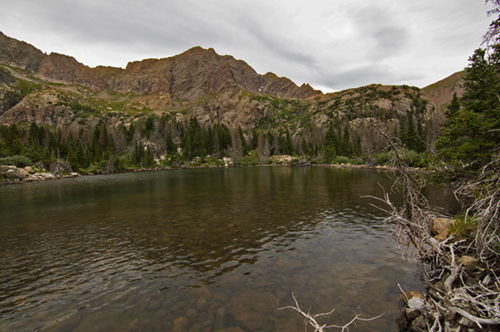 This trail is a wonderful day hike with gorgeous views, inviting alpine meadows, pristine mountain lakes, and abundant wilderness. This trail is full of Sangre goodness!