"We're out of Jolly Roger," my usual waitress at Eddy Line Brewing told me.
It was one of those times when my brain was trying to process what I thought I just heard. I paused, unable to verbalize a response. My favorite microbrew from Eddy Line was not available; it's a yummy black lager; I couldn't order it; it wouldn't satisfy my thirst today; I couldn't fulfill the final act of my hike. But, it's what I always drink after a long day of hiking when passing through Buena Vista. What am I going to do?!
I picked up the brew menu and stared at it. The waitress, obviously aware of my distress, slowly backed away, pointing her index finger up in the air and gently telling me she'd be back in one minute. I had one minute to recover and decide if another beer on the menu was worth a consideration.
I tried to reason that it was "just" a beer. "You can do this," I heard inside my head. So I focused on the menu and decided that their amber beer, Kick'in Back, would be a reasonable alternative.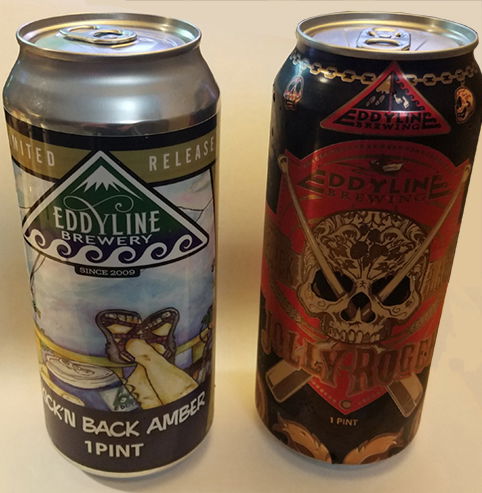 These are things we do when our best option is no longer possible, when our plans are interrupted. We focus, consider other reasonable options, and make the best second choice. This was not the first time I went through this exercise today.
Last year I had set out to do the Missouri Pass – Fancy Pass Loop in the southern part of the Holy Cross Wilderness area in Colorado. I couldn't finish the loop because we had just had a bad hail storm at the house and I needed to get back to help clean up the debris.
It was a very memorable hike; quintessential Colorado scenery. This year I was determined to complete the entire loop. And so this past weekend I did.
I won't spend a lot of time writing about the Missouri Lake trail section since I already wrote about that in last year's blog post.
I left work early on Friday and started my hike up Missouri Lake Trail at 5pm. Knowing that I had only 3.5 miles ahead of me, with some reasonable elevation gain (1500 ft), I calculated that I could make it to the lakes and setup camp before sunset at 8 pm.
By 6:30 I had found my camping spot for the night just a couple hundred feet from the largest of the Missouri Lakes. It didn't take long to set up camp and prepare my dinner. Dinner was a very delicious truffle couscous.
I was in my sleeping bag as the sun was setting, penning an entry in my journal about the day. I recalled that there was much more water in the creeks and the trail was muddier compared to the previous year.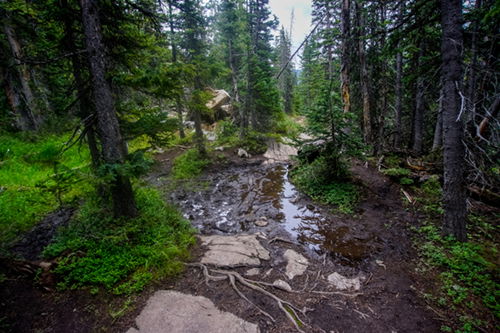 One last swallow of my chamomile tea was the final act before closing my eyes.
At 6am I was boiling water for my coffee with a breakfast of English biscuits and my homemade granola bars. By 7am I was packed and on the trail.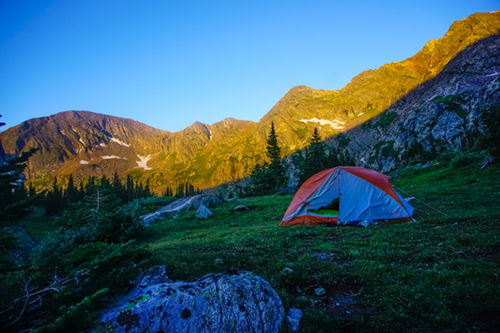 The lake was looking spectacular again, still partly in the shadows, eager for a new day.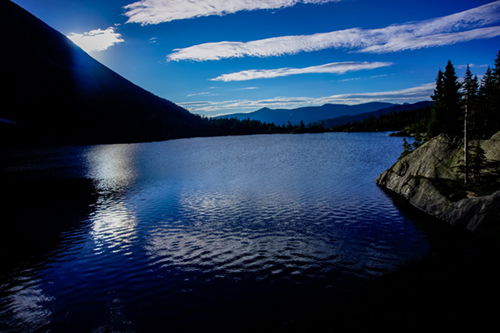 This is where I had plans. After arriving at Missouri Pass and before heading to Fancy Pass, I wanted to get a view and a few pictures of Blodgett Lake. Blodgett Lake is .7 miles west of Vault Lake. Vault Lake is between Missouri Pass and Fancy Pass.
There are effectively two options to get to Blodgett Lake from Missouri Pass:
Roughly follow the same elevation as Missouri Pass (~12,000 ft) over rough terrain then dip down to the lake. There is no trail on this route but it has less elevation gain of the two choices. Or…
Go down to Vault Lake and then follow Cross Creek up to gain Blodgett Lake. There is a mostly established social trail on this route, but it adds about 1000 feet of elevation gain on the day.
The information I received in my planning was that it would be best to take the unestablished and more direct route – option #1. It seemed a bit rugged on the satellite views but, there's nothing like firsthand experience to influence a decision. So I made my own way through the loose talus. It was slow going, but the view of Vault Lake below was impressive.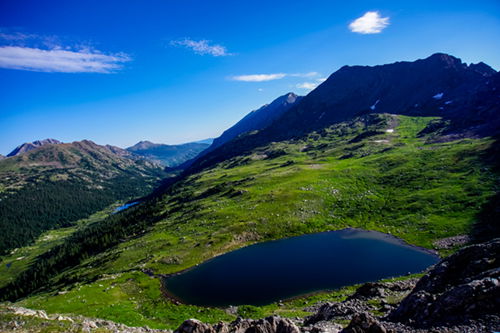 About half-way through my trek, I came up against a sizeable snow field. Last year at this time, there were no sizeable snowfields in these mountains. This year, all different.
I tried a few steps into the snow field. It was still crusty enough to be concerningly slippery. I didn't bring any traction devices for my shoes and I couldn't dig in enough to give me the traction I needed. I was facing a reasonable possibility of uncontrollably sliding down the side of the mountain into a pile of unforgiving boulders at the bottom. It was much like the waitress would be later in the day: you can't go across this thing; you need to decide on another option.
Above me the snow field started at a wall of granite – no good crossing to be had up there. The only other option was to go down to reassess a route from lower, which meant regaining the lost elevation through the talus.
When I arrived at a safer place to cross, the traverse route didn't look promising – no clear path and lots of rugged and likely unstable rocks to maneuver. I could figure it out; I've done this kind of navigating in the past, in worse conditions. So, it wasn't my ability in question. It was the timing. In addition to gaining Blodgett Lake, I had Fancy Pass to cross and a mountain descent ahead of me yet. The weather forecast for the afternoon was stormy, which means a good chance of dangerous lightning.
So, I did a quick calculation of when I would arrive below tree line to be in a safer place from the potential storms on the other side of Fancy Pass. It didn't seem to matter if I continued on this route (option #1) or abandoned this route for the other route (option #2). The timing didn't feel right. I didn't want to be rushed. I didn't feel all that motivated to step beyond my risk tolerance for the sake of a low priority goal.
I had to abandon my plan for Blodgett Lake. Other people might have taken on the adventure; good for them, not for me. In exchange, I had more time to enjoy the trail without being rushed… and that's never disappointing.
Here's a picture of what I was facing.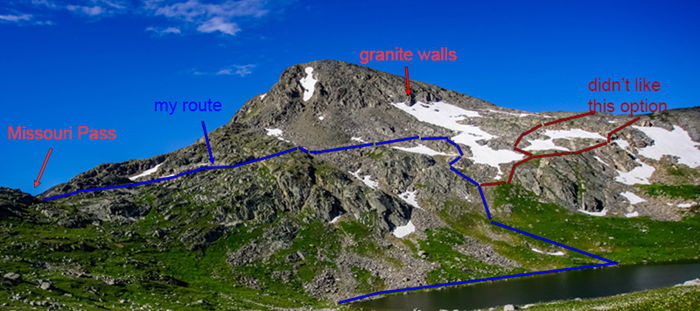 I made my way down to Vault Lake where I met two couples camping for the weekend. I talked with them for a few minutes. Their plans were to explore the area for the rest of the weekend. They pointed me in the direction of the trail to Fancy Pass and I was on my way.
The elevation gain from Vault Lake to Fancy Pass is around 900 feet on a well-defined trail. Here are a few pictures from that trail.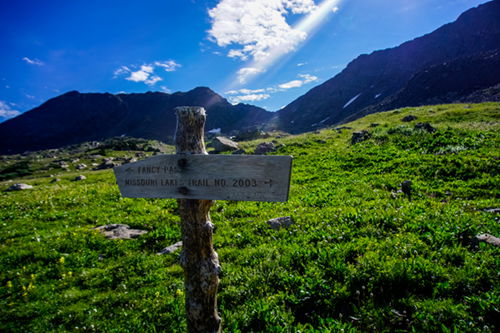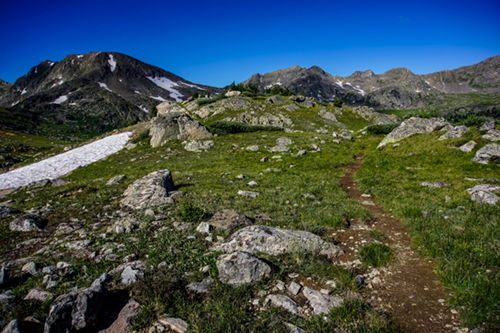 Initially I thought that Fancy Pass was named for some unique, elaborate decoration to its facade. Wrong again. Fancy Pass was named after Joseph Fancy, an 1880's prospector in the area. The Pass was originally a knifelike ridge that was not particularly convenient for hauling mining equipment across. And so they blasted it with dynamite until it was level enough to serve their purpose.
Even if this place isn't named after its appearance, I very much enjoyed the view from up here. Looking east is a nice skyline of the Gore and Mosquito Ranges. Looking west is Avalanche Peak on the left, Mount of the Holy Cross on the right, and the western edge of the Holy Cross Wilderness in between.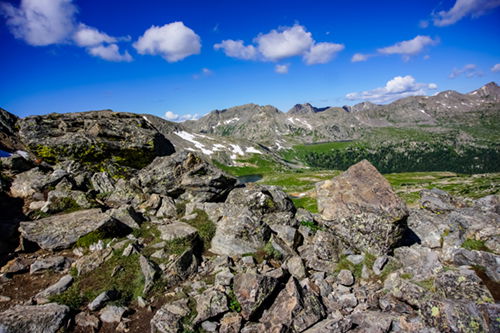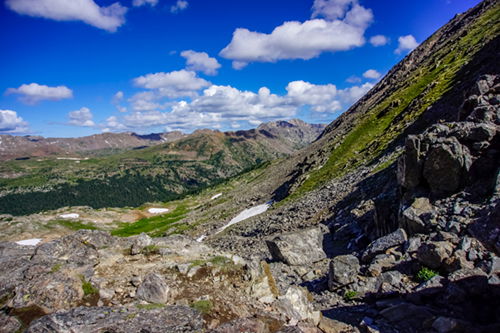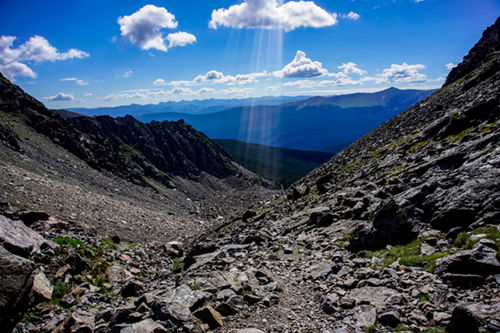 The wind was calm all day, with the exception of the top of Fancy Pass. But the breeze was refreshing after climbing the pass.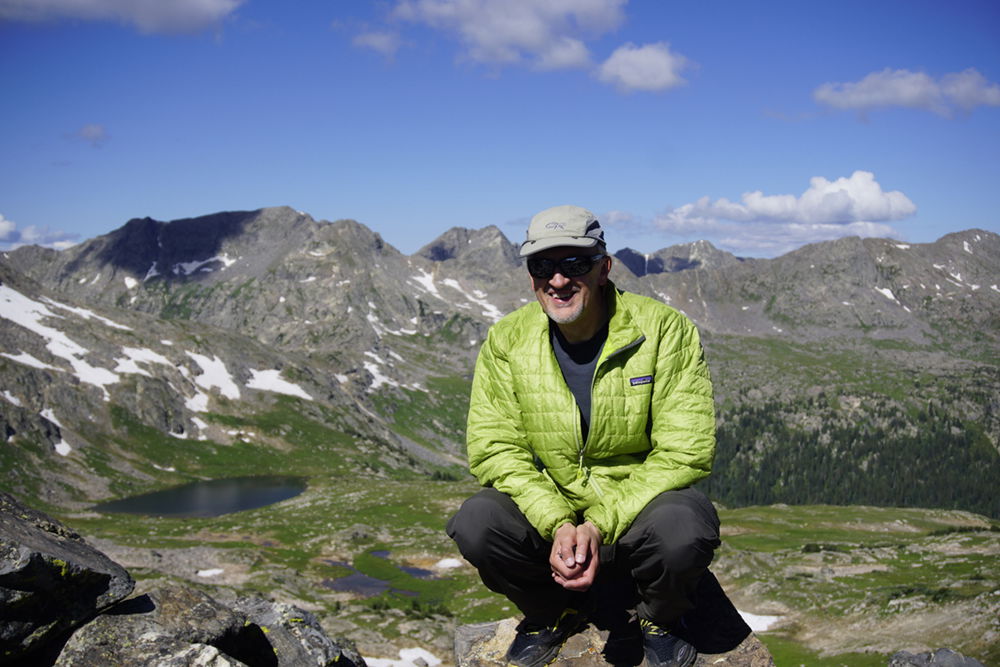 The descent down the couloir was loose in some places, but it was mostly a stable and well-maintained trail. There were some small snow fields that were of lower risk than what I encountered earlier and easier to maneuver around if a person chose not to walk through them.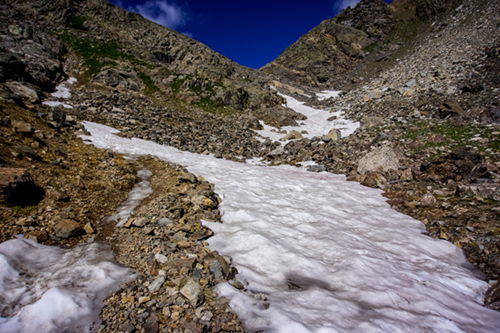 I met a U.S Forest Service ranger who was coming up the pass. Her name was Nichole. She is from MI, as I am. We talked about her wanting to hike Isle Royal, an island national park in Lake Superior; I insisted that it be on her bucket list; she didn't protest. She was out doing minor trail and campsite maintenance for the week in this area. I thanked her for her service. We really can't thank these folks enough. They are not paid well; it's a labor of love, love for the wilderness and all the great things about these places. They care for the 193 million acres of national forests and grasslands across America. That's a big job! It's partly because of them that we can enjoy these trails as we do.
Soon after, upon the approach to tree line, Fancy Lake came into view.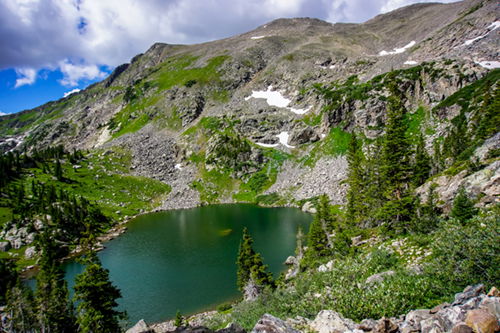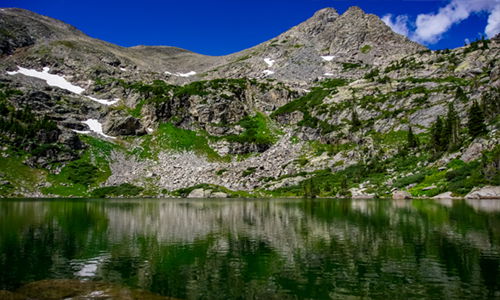 The flora was capturing.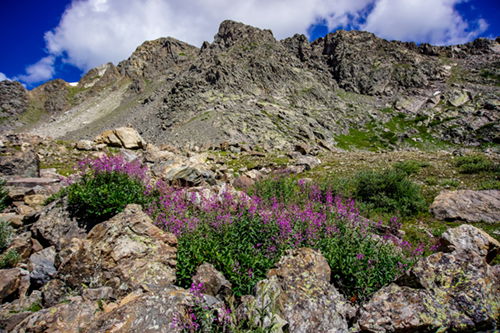 A runoff creek forms to the left of the trail as we get closer to Fancy Lake. Eventually this runoff creek crosses the trail. Not long after, notice a sign off to the right indicating the split for the trail to Holy Cross City.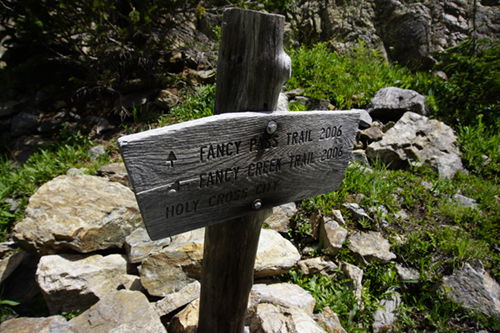 Holy Cross City is an abandon mining town that still has a few standing buildings and rusting equipment. It's a favorite destination for serious 4WD enthusiasts.
Turn to the right and cross the runoff creek. Follow the path down to the lake then turn sharply to the left at the lake just prior to crossing Fancy Creek.
My second plan-thwarting event of the day was at Fancy Lake. This event didn't immediately disqualify an option, but I still had to weigh a few things and make a tough decision. Initially I had set out to camp here for the night. But a storm was rolling in, as predicted. The ranger spoke of the multiple severe hail storms in the area over the past week. I also had a birthday party for my oldest granddaughter on Sunday, meaning I needed to be back home (over 3-hour drive away) early on Sunday. I didn't want to stick the wife with all the prep work for the party in addition to the normal weekend chores. So, I did the adult thing – I headed for the trailhead so I could be home Saturday night. No regrets.
The trail follows Fancy Creek on the right as it forms a canyon of cascading waterfalls. Really nice!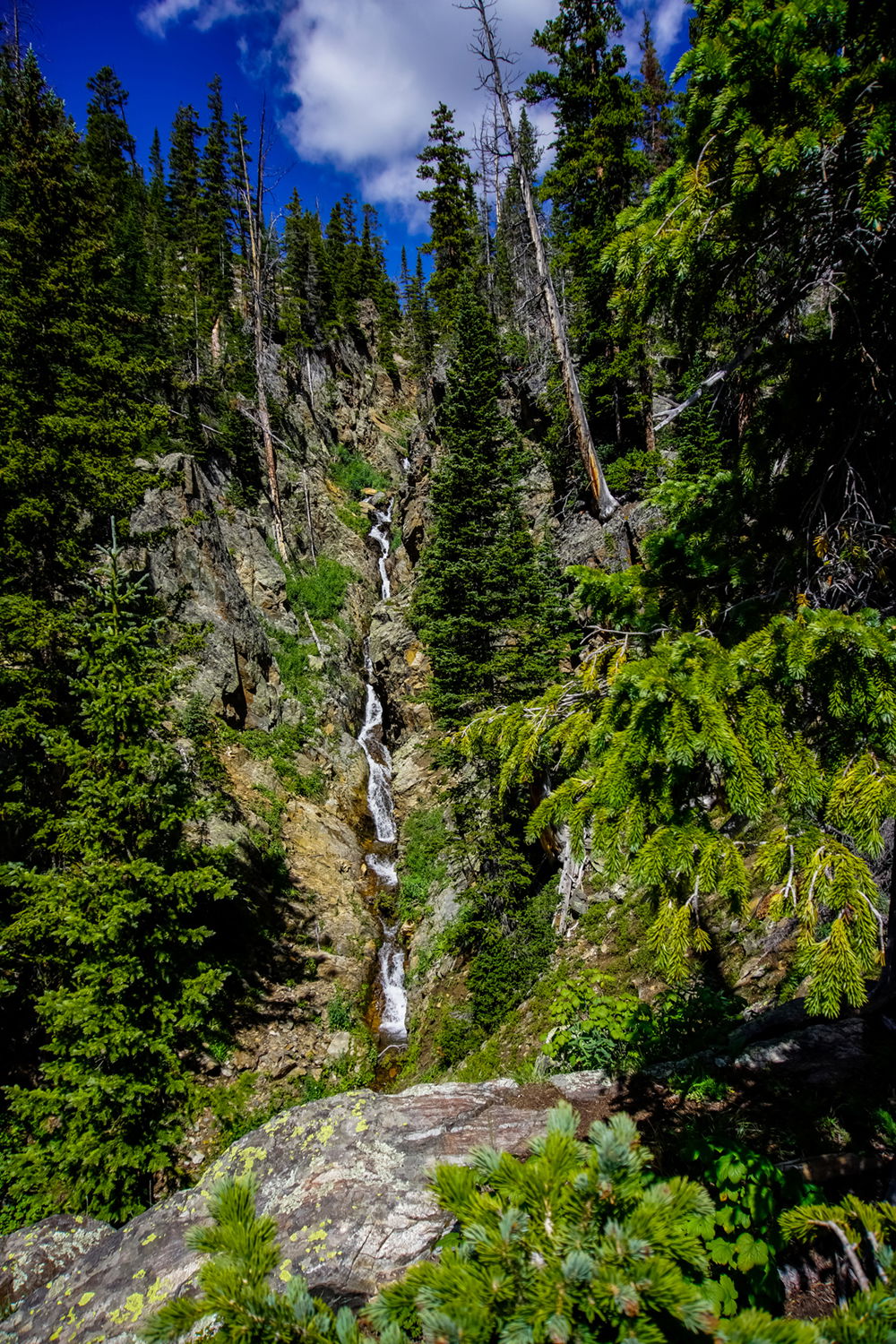 So, let's talk about the very cool looking red mushroom with white dots along the trail. This is the Amanita Muscaria (Fly Agaric) mushroom. I saw several batches of these along today's route. Most mushroom experts will tell you to leave this gorgeous specimen alone, while stoners will tell you to enjoy the high. If consumed raw, the ibotenic acid in it has been known to cause extreme nausea, vomiting, loss of coordination, hallucinations, and alternating agitation-sleep patterns. Others will heat them (decarbonoxylation) to transform the compounds and claim they have a psychoactive effect. But, please don't get curious. Let the mycologist figure this stuff out – go about your hike. But they do look cool.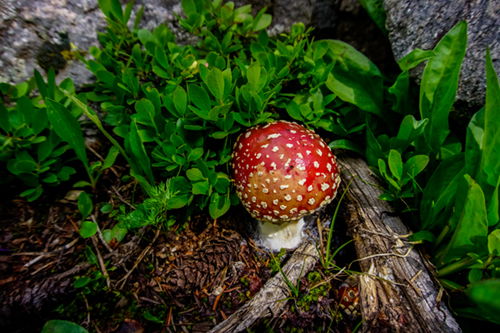 The trail has a number of switch backs below the canyon and the terrain along this end of the loop is gentler than the Missouri Lake trail. And like the Missouri Lake trail, the distance from the lake to the trailhead is around 3.5 miles, it was a bit muddy, and a good population of mosquitoes are waiting to greet anything with warm blood.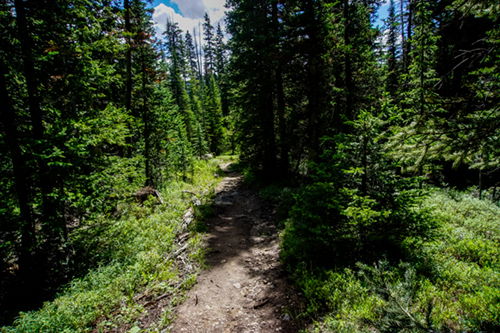 This was definitely a two-thumbs-up hike! I am super happy that I decided to come back to finish the loop this year.
And since Kick'in Back is a choice beer, having more time to enjoy the trail is fantastic, and being home to be a bigger part of a birthday celebration are all great things – don't sweat it when plans need to changed or when options are limited. It seems that when circumstances blast away our plans, there is always a pathway to make the day pretty special.
Enjoy the trail, my friends!