My final trek in Sangre de Cristo Mountains this summer was the Macey Lakes trail. It was the longest trail but not the most challenging. Although it met all the criteria for being the most satisfying hike of the summer.
Access to the Macey Lakes Trail, like all other eastern Sangre trails in Colorado can only be gained via the Rainbow Trail. The day begins at Horn Creek Trailhead at the end of Country Road 130 off Colorado 69 south of Westcliffe. It's all paved roads if a person takes Hermit Road out of Westcliffe to County Road 129 to Country Road 130. It was the most accessible trailhead I've been to in the Sangre.
This was going to be a 15.5-mile day, so I started early – around 6:30 am.
Connect to the Rainbow Trail going south from Horn Creek Trailhead for 3.25 miles. The Macey Lakes Trail turns off at Macey Creek and continues for another 3.75 miles to the first lake.
A couple of small meadows are along this trail before reaching Macey Falls. This is more accessible but less dramatic than Venable Falls, but still a very nice place to break for a few minutes and enjoy the soothing sound of rushing water.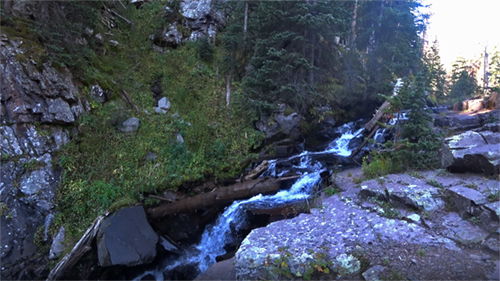 The trail has been a very gentle ascent so far. But now it starts to be a more intentionally upward. From the falls it's only .4 miles to the first lake.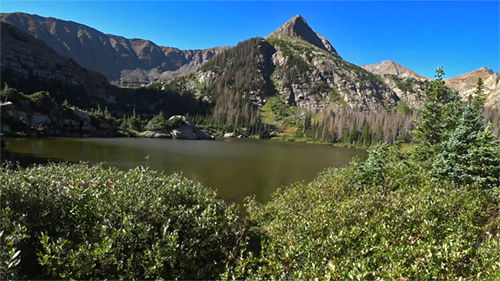 From the first lake to the upper lake it's a .84 mile hike with a 700 foot gain in elevation. To get to this trail, find a faint trail that circles the first lake counterclockwise. And after a couple small creek crossings, turn right and upward. The last half of this trail is very faint in places, but obvious enough to be able to find the way. Standing on the rocky shore of this lake is a breathtaking setting! I rested here for a while, enjoying the cool breeze, warm sun on my face, and the solitude of moment.
Important Note:
It was early September. Hunting season had started. I didn't know it at the time, but there was one hunter in the hills behind me at the upper lake. He had done a ton of research over the previous months to scout the area and had already spent three days stocking a buck. And then completely out of character for me, I yelled into the mountain to see if it would echo back. I don't normally do this kind of thing because it disrupts the normal, peaceful existence for all that lives up here. It's really quite dishonoring and disrespectful. Shouting out like this is a moron thing to do.
Justin, the hunter, wrote me an email some days later after I had posted the hike on my YouTube channel and told me how I had ruined his hunt for the year. He was actually quite a gentleman about it. He had the right to lay into me harder than he did. My gut sank because I knew what I had done to him and his family... and to this beautiful place. I sent a sincere apology to him - but it was too late, the damage was done.
A few lessons here: don't be a dick in the wilderness, be more aware of the hunting seasons, be more respectful of everyone and everything out here, and ware proper 'hunter orange' colors during hunting season.
I'm still sick about it. So, please learn from me. Don't do what I did.
The last lake of the day was mostly a bushwhack from the trail intersection at the creek crossing. Follow that trail straight, continuing to circle the first lake counterclockwise and then taking a right and heading straight up to the lake. The trail becomes faint again, but a good app like CoTrex will help with direction finding. The final portion of this trail is up and over a couple large rocks, which form a natural dam containing the lake. Again, a beautiful setting. Relax and enjoy!