This year I purposely planned hikes into alpine lakes. I couldn't bare another year of looking at pictures; I had to go experience it. This trip was one of those experiences. The contrast between rugged granite peaks patched with snow, alpine tundra saturated with wild flowers, and the purity of aqua blue lakes all bundled together in one eye soaking moment is indescribable. And although even the best pictures and carefully chosen words are still desperately inadequate at capturing this experience, it's all I have for you. Here goes…
For some folks, their introduction to the San Juan Mountains is a drive into Ridgeway, CO on Highway 550 from Montrose. The skyline here ranks among the best in the Rockies. The most prominent peak from this view is Mount Sneffels, where nestled on the shore of a lake in an alpine valley just below I'll pitch my tent tonight… Blue Lakes here I come!

A few friends and I had just finished climbing Mount Uncompahgre on the other side of this range earlier in the day. One of them, Ryan, joined me. We were to meet his friend near the upper lake. The plan was to summit Sneffels the following day.
In Ridgeway we turn to the right on Highway 62 for 5 miles before turning left onto Highway 7. The trail head is 9 miles up that road. It's all gravel; 4WD not required.
I have 25ish years on Ryan. It shows in my physical inability to keep up with him. Honestly, I don't try very hard to match his performance in these hills. He's been patient enough to have had me join him on more than one occasion this year; and I'm grateful for the company. His goal is to climb all 58 14,000-foot summits within a year. And he's also training for a marathon. He's an inspiration for the couch potatoes who are still young enough to move. Get out and get active; thank me later.
We didn't arrive at the Blue Lakes trailhead until after 4pm. We were hoping to make it to the upper lake by 7pm. I had my doubts because my left calf had tightened up and it had become painful enough to slow me down on any ascending pitch, which was most of the trail ahead of me on this afternoon.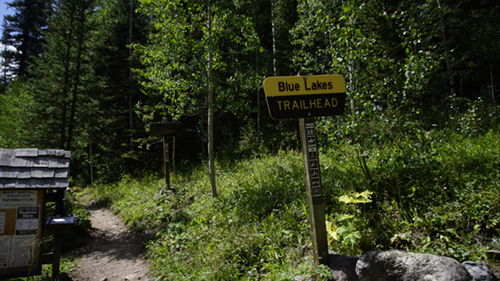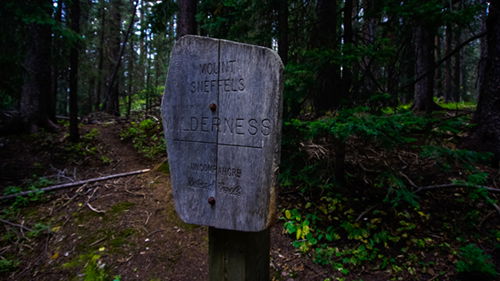 It wasn't long before Ryan left me behind to meet up with his friend. His friend didn't have a shelter, the clouds were beginning to darken, and the skies had begun to rumble. Normally it's not good to leave someone behind, especially with an injury. But, I was very glad he did because I was fully equipped to set up camp anytime I needed to, whereas his friend was without shelter in threatening weather and probably at or above tree line.
Here's what the weather looked like: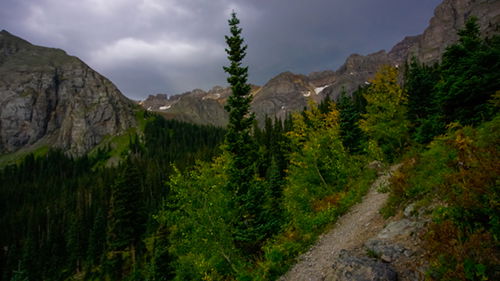 I made it to the lower lake as the rain started to fall and set up my tent without getting too wet. It turned out that Ryan found his friend right at tree line and the weather didn't get nasty. It all worked out well.
One thing I learned on a high activity day such as today: increase caloric intake to at least meet the caloric expenditure of the day. I was running very low on energy on this last leg of the trail. It was only 3.5 miles and 1700 feet elevation to the lower lake, but it felt like it was much more. I had to stop and down a bag of dried bananas. These are great for fast absorbing energy.
I was excited for the morning, as it would bring views I had only seen in pictures. So, immediately after a healthy bag oatmeal I went down to the shore of the lake to absorb with every one of my senses. I tasted the water and touched the rocks on the shoreline while my eyes and ears noted every detail of the rippling water and multi-dimensional peaks surrounding me. The pine forest filled the air. Definitely not disappointing. And this would be just the first of many of these moments on the day.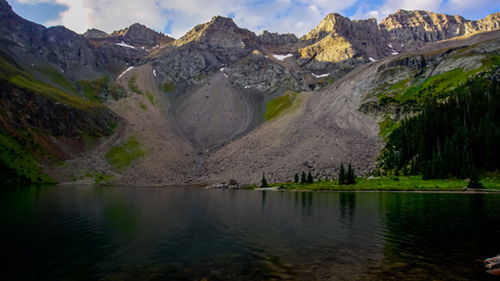 After a short while I proceeded up the trail to find Ryan. Here are a few views from along the way.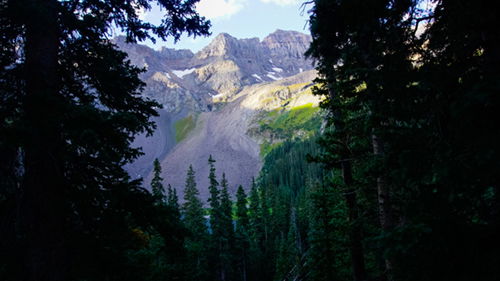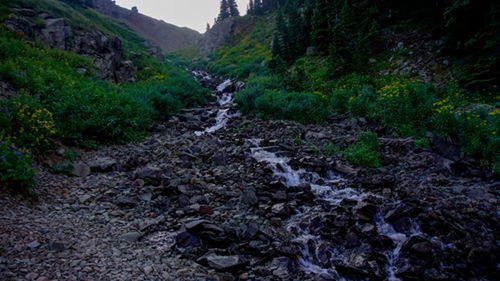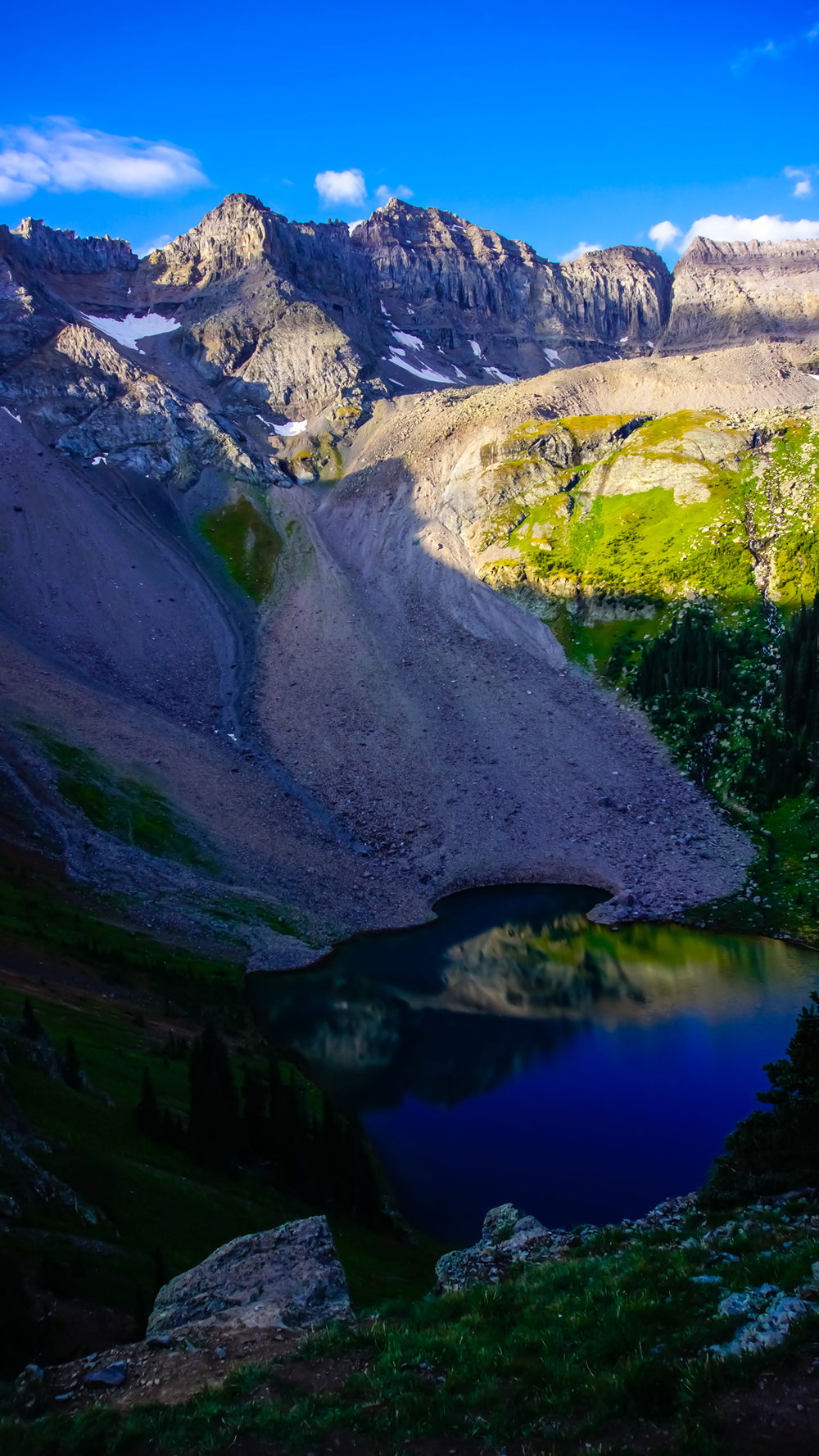 I found them near tree line, expressing my gratitude for the decision he made to move on without me. Here's where they set up camp.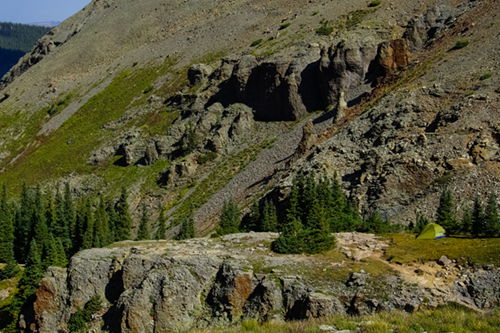 He was going to press forward with his bid for the summit of Sneffels. My calf would not allow me to put that much more stress on it. So I decided to hike on for as long as I felt was supportive of my condition. I would make it half way up the pass; I needed to save some for the hike back.
I went ahead of them while they finished preparing for their day and met them at the upper lake to filter some water. Here is the trail through the alpine tundra.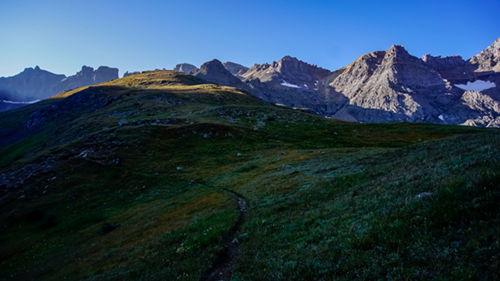 This is the middle lake. Sneffels is center-left, the trail leads up over the pass center-right.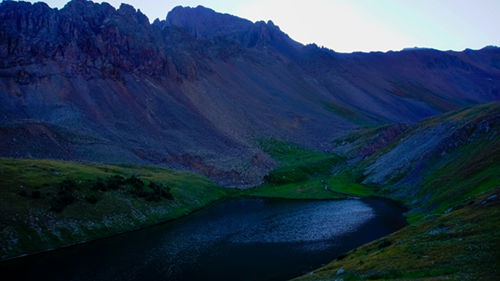 This is the creek that drains out of the upper lake and into the middle lake.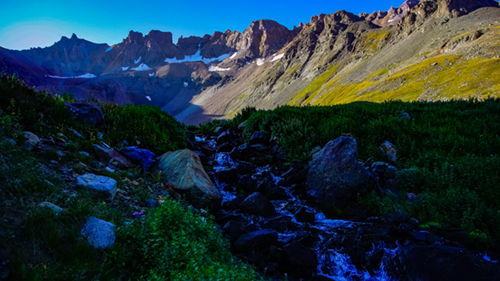 Ryan and friend are coming down the trail to meet me at the upper lake.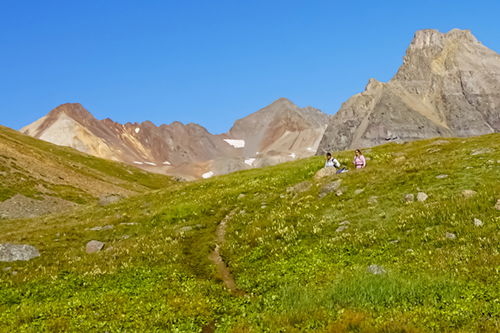 This is the upper lake.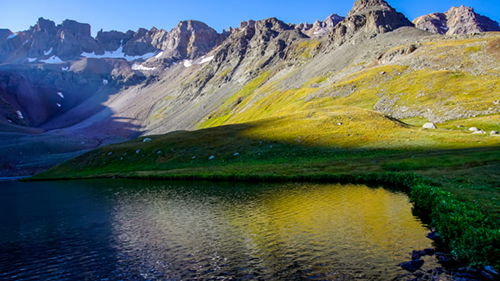 They pressed ahead. We would connect the next day via social media to compare notes. The picture below is the upper lake taken from half-way up the pass.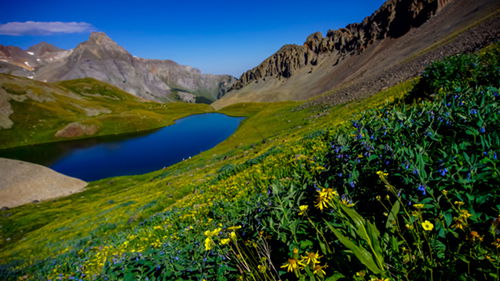 This is S4, sometimes referred to as Wolcott Mountain. The lower lake is at the base of this mountain.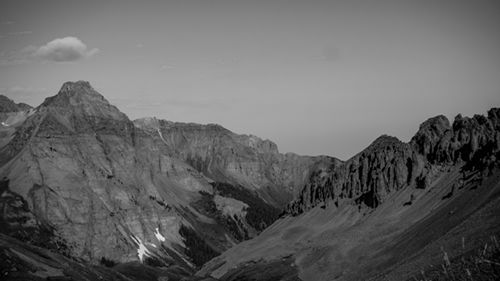 This was taken along the trail up to the pass.
Yours truly above the lower lake with S4 behind me.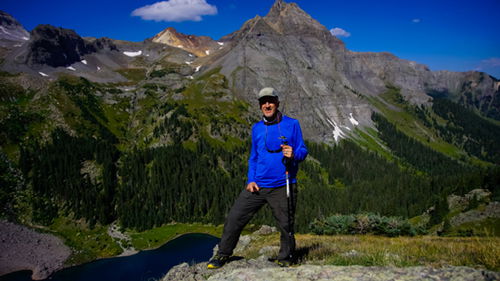 The return leg of any trip like this is important for closure. As much as we want to preserve our time in perfect places, we know we must return to the part of our lives that serve to support further opportunities like these. The trek back to the Jeep is peppered with conversations of encouragement for those heading up the hill and thoughts of what other adventures might come next. It seems to be some sort of transition therapy for me.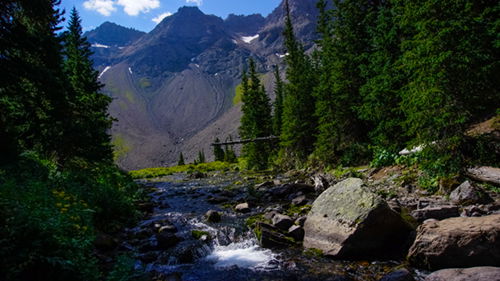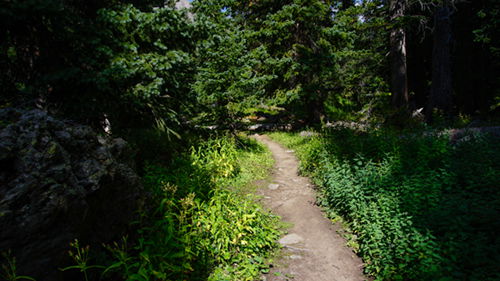 When I was a young kid growing up in Upper Michigan there was a period I listened to John Denver's music. One of his lyrics came to mind today: "…like a night in a forest, like the mountains in spring time… you fill up my senses, come fill me again" I know, it's a corny love song but it captures the vulnerability and depth of being in places like this. (Side note: did you ever notice an almost creepy moan in the right channel at 14 seconds into this song… ya… weird.) It's this depth we just can't get in a two dimensional picture. So put down the picture, reject the couch, and go! Get out and experience the adventure!