OK, imagine you are an outdoor enthusiast. If I invited you to hike a National Nature Landmark… or to experience rare granite arches… or miles and miles of spectacular towering rock formations… or to see rivers that flowed partly above the ground and partly below the ground… or to backpack in an area that received the most recommendations from the U.S. Forest Service to become designated a Wilderness Area in Colorado – would that inspire you to strap on your hiking gear? This place is 120,000 acres just 60 miles from Denver and 70 miles from Colorado Springs. It's the Lost Creek Wilderness Area. And for those who like solitude, it is one of the least visited Wilderness Areas in Colorado. See map.
I took a long weekend and spent three days backpacking the 26-mile south loop that begins and ends at the Goose Creek Trailhead near the south-east corner of the area. The route: Goose Creek Trail -> McCurdy Park Trail -> Lake Park Trail -> Hankins Pass Trail. CalTopo has a nice map. And the Forest Service has some important information about the status and rules.
Expect rolling hills the entire way. Some are more challenging than others, but the total elevation gain for the entire loop accumulates to 5500 feet.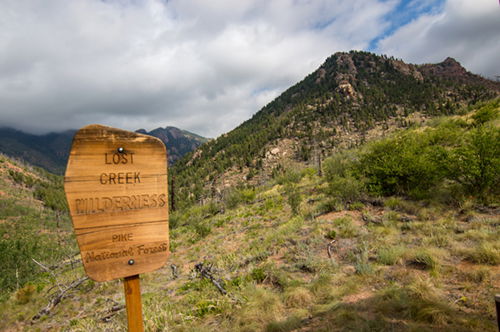 In 2002 the Hayman Fire burned 138,000 acres in Colorado (see details in the Forest Service report), some of the burn area can be seen from the Goose Creek Trailhead. Indeed, this portion of the Wilderness Area is part of the burn scar. It's a great reminder that extreme care should be taken to preserve this beautiful landscape.
I arrived at 9:30am. The parking lot was nearly full. A short walk down to the creek offers the option to take Hankins Trail to the left or Goose Creek Trail to the right. Following the recommendation of other bloggers, to the right I went. This picture is looking back at toward the beginning of the trail.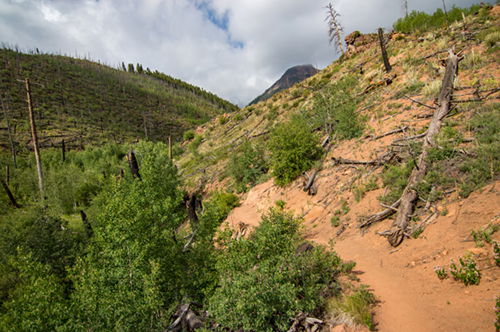 The trail follows the creek for a little over a mile before heading to higher ground. This is the best spot to fill up on water because many of the feeder creeks along the trail only have flowing water in early-late spring. The next reliable water source isn't until Refrigerator Gulch. Of course, depending on the time of year and snow/rain levels, there could be water in places that would otherwise be dry.
Here are a few pictures of Goose Creek Trail before we turn on McCurdy Park Trail.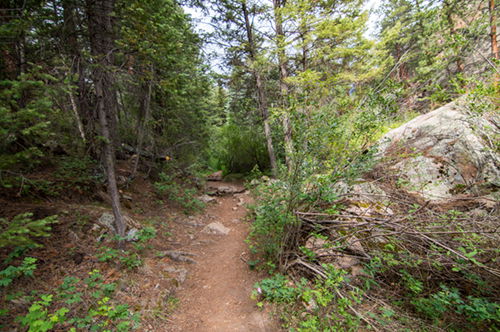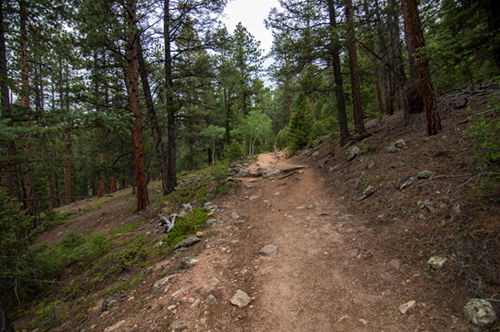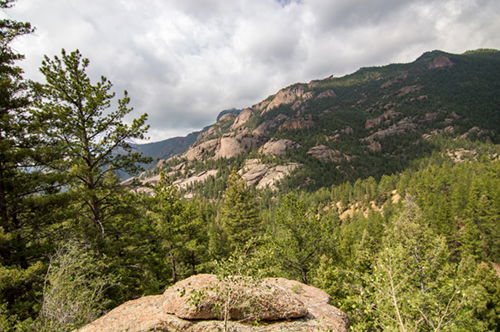 At approximately 3.25 miles up the trail I took advantage of a very short diversion to the scene of the Lost Park Reservoir Site. Several log buildings are still standing, with signs explaining the history of this area. It turns out the reservoir was not completed.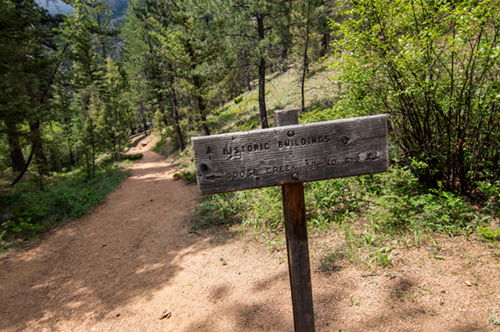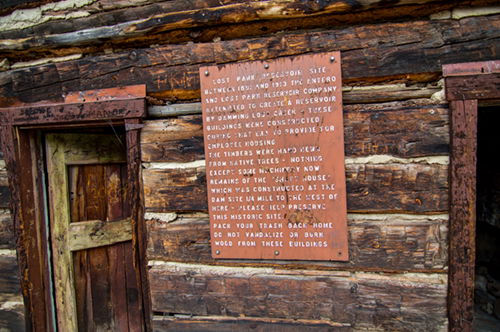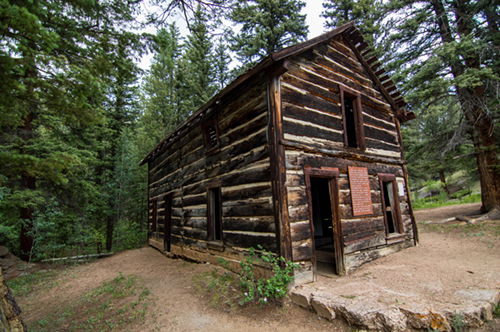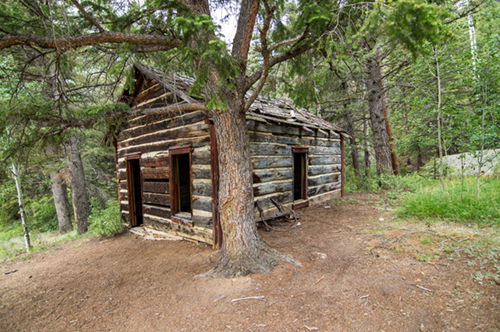 Getting back to the trail, after the historic buildings, the trail raises. The reward: great scenic views!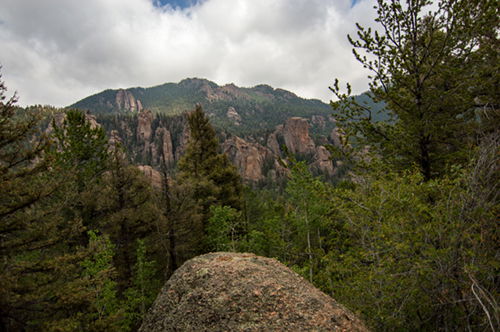 At about 8.25 miles, turn left onto McCurdy Park Trail. More scenic views ahead.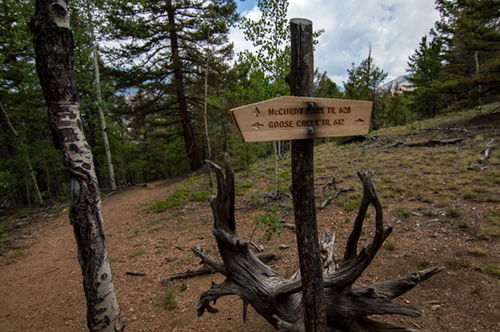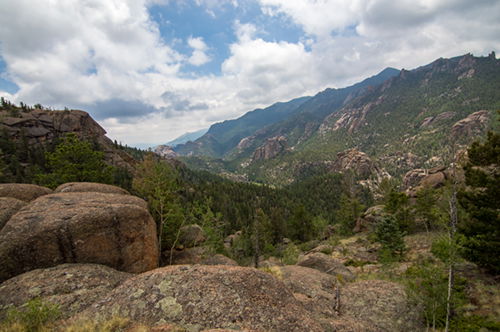 The trail descends until reaching Refrigerator Gulch at a creek that can easily be stepped over. I continued another 1.7 miles to my camp for the night, on the banks of Lost Creek. It was a spectacular spot. I soaked my feet in the cold mountain water, appreciated the trout spooked by my presence, met my camp neighbors, cooked my evening meal, and took in a restful night. There are several very nice places to pitch a tent in this area.
I brought my bear canister this time. It was my first time using it. I've heard many long distance hikers prefer not to bring one, mostly because of the added weight and they tend to bulk up the pack. They typically weigh between 2-3 lbs. Pros: very convenient - just place it on the ground 100 feet from the tent, no searching for the perfect tree to hang your food; it doubles as a stool; it's the most sure way of keeping food away from any critter, no worries about having no food half way through a multi-day trip; some National Parks require them; and canisters frustrate bears and discourage them from trying again. Cons: weight, no one wants to carry more weight than necessary; and they are bulky - if it's not filled up completely it's wasted space in a very limited pack and some packs don't accommodate the sizes very well. Alternatives are water proof hanging sacks and Ursacks (made out of bullet proof material) that can be strapped to a tree without hanging. I usually use a hanging sack, with some reservation - because out of the three options, this one is the most risky (bears and other critters can more easily get to a hanging bag) and inconvenient - but it tends to be the most light weight.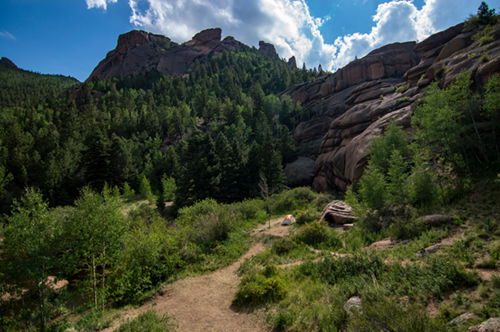 This is one spot where the cinquefoil bushes and wild roses are abundant. The flowers attract humming birds. I was entertained by the dive-bombing variety, apparently protecting its territory from other humming birds.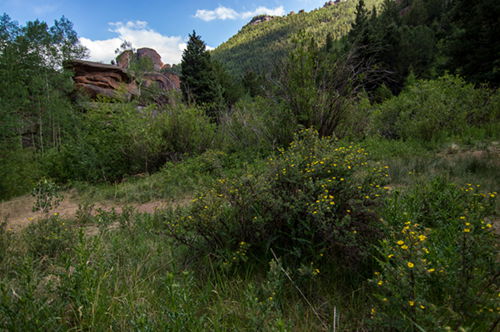 This is also one place where you can see the river reappearing out of the rocks.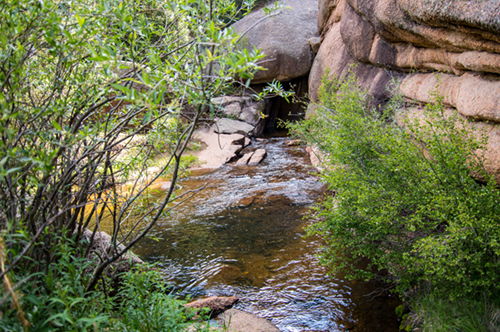 It cooled off quickly, a refreshing alternative from the day's heat. I slept directly on my insulated air mattress, using my down sleeping bag as a blanket zipped up just enough to form a foot box for my usually cold feet.
Day 1: 10 miles and 2200 feet of elevation gain, 6 hours trail time
I woke shortly after 5am as the dawn slowly lit my tent, gentle but with purpose. As soon as I touched my vestibule fly I knew my departure would be a bit delayed: condensation.
It is estimated that we exhale about 1 liter of water every night. If the tent isn't ventilated everything inside the tent will absorb that 1 liter of water. So, the trick is to find the balance between keeping the rain out, staying warm, and allowing air to flow through the tent.
My Big Agnes Copper Spur UL1 is double-walled so the condensation was on the outer shell. I shook out the shell and draped it over a large rock in the morning sun as I was having my breakfast. By the time I was ready to pack it up it was mostly dry; a quick wipe-down removed the remaining droplets and made for a nearly perfectly dried tent. However, lesson learned: open up the vestibule more to allow more airflow.
Other tips for managing condensation:
Sleeping near bodies of water usually increases condensation; camping just 30-50 feet higher can significantly help.
Anything wet in a pack adds weight and can make other things in your pack wet as well. Carry an kitchen garbage bag for such cases when you can't wait for things to dry.
Use a camp towel to wipe off most of the moisture; this will speed up drying and/or reduce the negative impact of packing wet things. Then hang your towel on the outside of the pack to dry.
Back to day 2. This day would likely be the longest of this trek due to infrequent good water sources over the coming 13 miles.
There is a bit of a strategy involved with how much water to carry and how much water would be available at the end of the day. I was reminded that just because the map shows blue doesn't mean a good water source is available. My research was mixed; I was not assured of any or many good water sources along the way. So, I left camp with 5 liters on my back. It was heavy. At 2.2 pounds per liter, I increased my pack weight by 11 pounds. That is not insignificant over the course of a long day. But, it's better than not being hydrated.
The first cool site just minutes into the hike was seeing where Lost Creek disappeared into the rocks.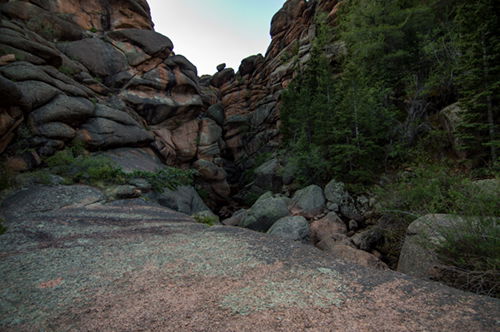 And a short distance from there was the creek crossing. It would have soaked my shoes, which isn't bad, because my Alta Lone Peak trail runners are designed to dry fast. But, I didn't feel like starting my day with wet, cold feet. So, I put on my sandals, rolled up my pant legs, and waded across. The logs in this picture show exactly why I chose to not use them to cross; very unstable and slippery. This is also why I don't go barefoot; sandals increase stability. Hiking with a soaked pack after falling in a creek isn't my idea of a fun ride.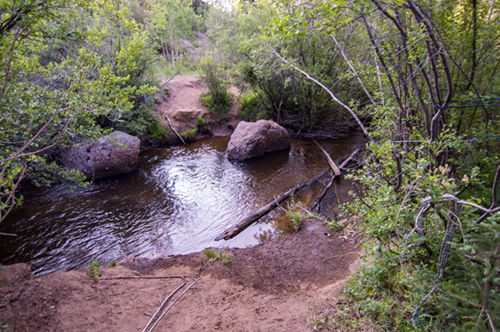 Less than a mile into the hike is a fantastic view of the departed valley and craggy landscape.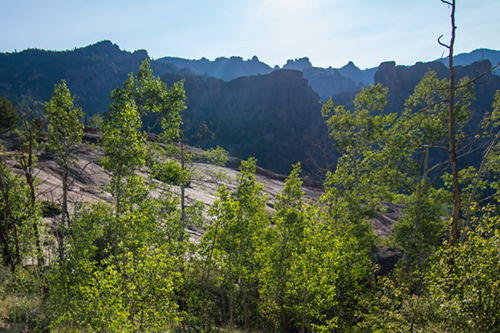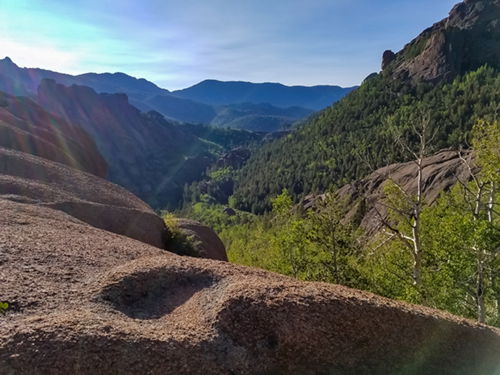 From here it's a steady climb for several miles until reaching McCurdy Park where the terrain levels with some open spaces. But, you may also encounter some mosquitoes. Today the bugs were not bad.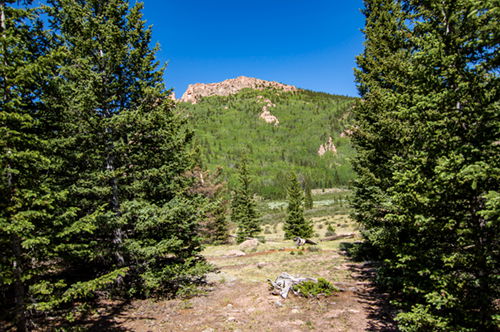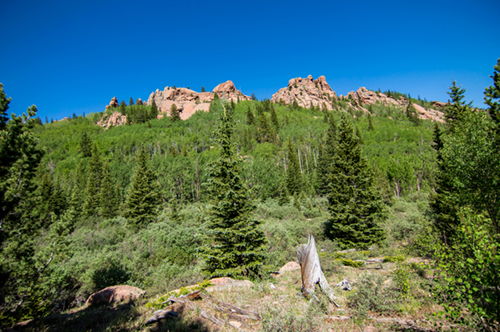 The trail begins another ascent to the top of McCurdy trail where we cut off onto Lake Park Trail.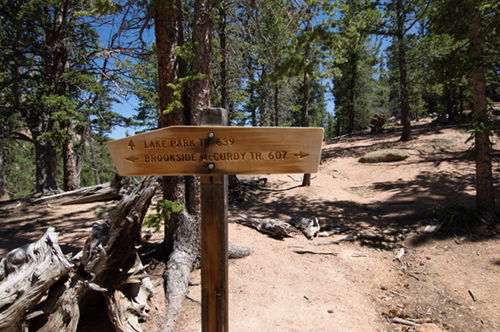 It's here where the trail takes its steepest ascent of the trip. The good news is that it's only for 1.3 miles and it's only 900 feet. You will experience many naturally downed trees in this area, which is likely do to a storm with strong winds.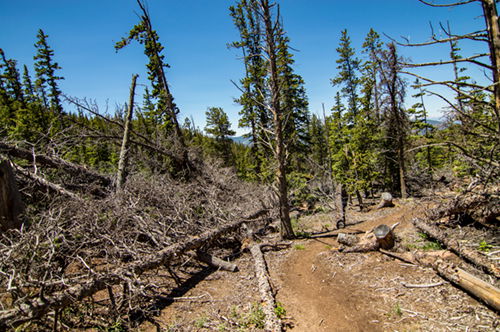 The view as you start to descend again is amazing. Rounded and towering granite formations rise above the native pines. This is not unlike the scenery so far, but this time we're close up. It's worth a stop for a snack just to soak it in.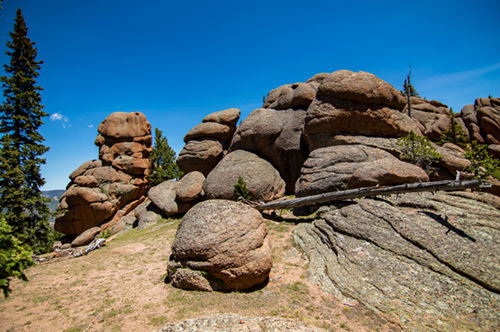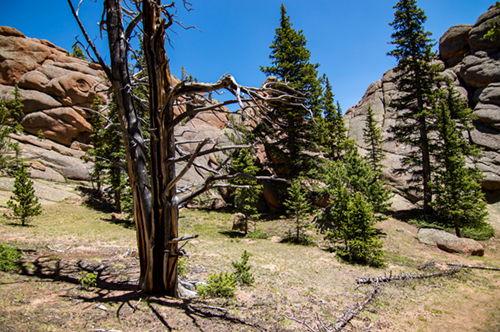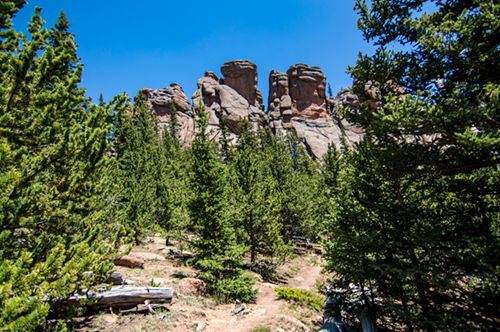 The descent into Lake Park is a nice change from the mostly ascending day so far. But one does wonder about the absence of lakes in a place with such a name.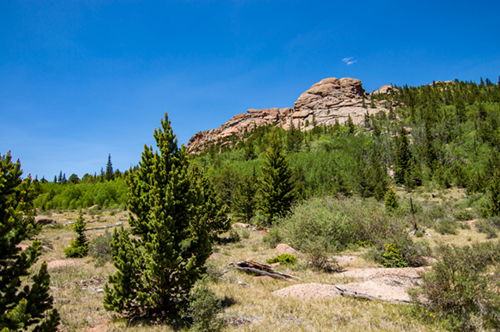 Along this section of the trail there are small aspen groves as it switches back and forth.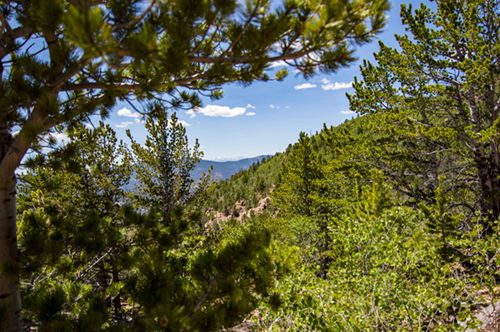 I encountered a few young people from Kansas along this trail. They were dangerously low on water. When they asked about the distance to the nearest creek, I volunteered to give them a liter and a half of my own water. I tried not to lecture, but I couldn't help but warn them about the long uphill trail ahead with such limited resources.
I wished them well and not much later I was at my final trail intersection – Hankins Pass Trail. At now just a little over 9 miles into the day, I was grateful to be on the home stretch. Turning left, three miles down this trail next to a creek, I would find my final camping spot for this trip.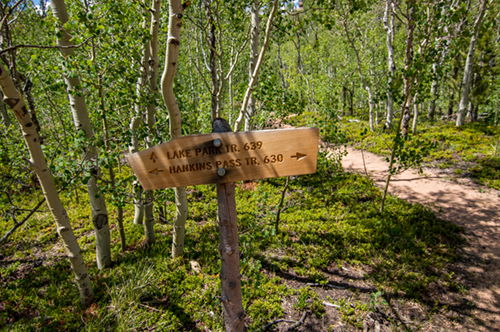 The trail would eventually open up to sections of the Hayman burn scar.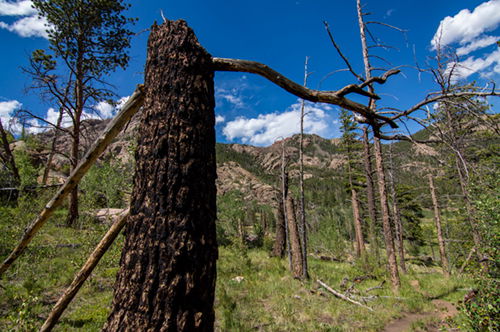 I camped for the night under tall Aspens. The day had me travel 12.2 miles with 3300 feet elevation gain.
The creek here was small, but it was enough for me to wash up and replenish my water containers.
With just 3 miles remaining I could have finished in a little over an hour, but I was eager to put my pack down and spend one more night in the tent. My shoulders were achy and I was tired.
There were lots of birds here… and bugs, but nothing too annoying. I ate my dinner, a delicious rice vegetable dish I had dehydrated, like most of my trail meals. Then I reflected on the satisfaction of my day over a cup of relaxing chamomile tea.
The clouds were rolling in; I heard thunder in the distance. Thinking it might rain, I tidied up camp, turned in early, did some journaling, and drifted off to sleep to the sound of the breeze in the quaking aspens. Perfect!
As I stumbled out of the tent the next morning I startled a young doe and watched it bounce off a safe distance before looking back to satisfy her curiosity.
Some oatmeal and coffee for breakfast, a quick pack, and one more check of the campsite before I was back on the trail.
It was a spectacular morning through meadows, alongside a creek, and down through a small canyon. There were several easy creek crossings on logs and rocks before I found myself back at the first creek crossing of the trek. It was a short climb back to the trail head I had started at 3 days earlier - finished!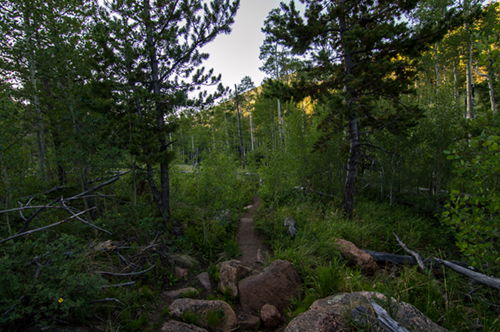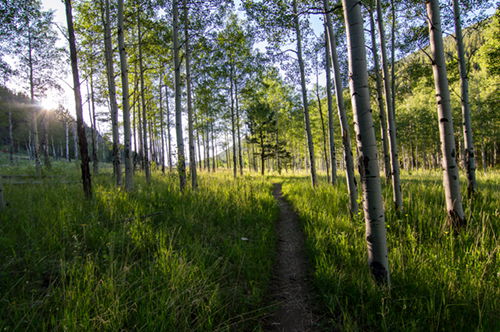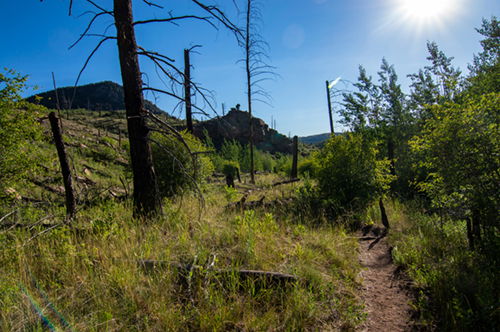 OK, imagine you are an outdoor enthusiast. I think you would love to go on this backpacking trip. But, even if you can't go on a 3-day adventure in the Lost Creek Wilderness Area, I hope I've inspired you to get outside and enjoy whatever nature you can surround yourself with today. Happy trails!
Topo map: