I live in Colorado. I don't downhill ski. A collective gasp is heard across the State. To some it may seem like I'm taking up valuable space a skier might better appreciate. I suppose it's akin to having a car and not driving. But, hold on, I do like to snowshoe. Hopefully this gains me a couple redemption points. Give me a shot here. Read on.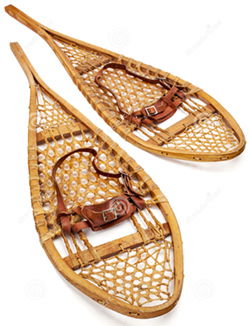 I grew up just a few miles from the shores of Lake Superior. The lake effect snow arguably presents the best conditions for any activity requiring snow measured in feet. It's where I come to love snowshoeing and cross country skiing.
My cross country skiing days were limited. I did a fair amount as a kid until our 30-year-old wood skis burned in a fire. The bindings were dated but effective enough. Being budget-limited, the family had to prioritize as we attempted to
recoup the losses. New skis didn't make the cut.
Fortunately, our oak-framed vintage rawhide webbed and leather binding snowshoes did not go up in smoke. They were what are known as Huron or Michigan style snowshoes. They had a teardrop shape with long tails and a gently turned up nose. They are designed to keep a person afloat on the horrendously deep snow and provide opportunity for fewer face plants. The tip is a little more pointed than Alaskan shoes but not nearly as pointed as Ojibwe's. Snowshoe Magazine has a nice online article about these old-school shoes. (Bradley, 2012)
These days I am enjoying my Tubbs Flex Alp XL shoes with carbon steel construction, full length aggressive side traction rails, monster Viper 2.0 toe crampons, quick and sturdy bindings, and a 19 degree heal lift for steep climbs. Yes, I like my Tubbs. The only down side is they weigh 2.5 pounds each. Add the ¾ of a pound for each of my Scarpa Charmoz mountaineering boots plus heavier socks and it's nearly 3 more pounds on each foot than my summer ultra-light trail runners.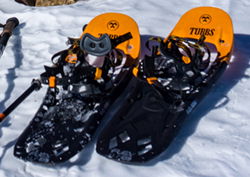 These winter activities are calorie-blasters. There are no excuses for gaining weight in the winter if you live in colder climates. Here are the numbers: Snowshoeing can net a person 45% more burned calories compared to running or walking at the same speed and distance. Count up all that the snowshoeing people do in America each winter and you'll reach 109 billion calories burned per year. And I can tell you that it definitely feels like harder work. Those that cross country ski, congratulations, you collectively burn 54 billion calories per winter! That's like 362 million beers! (Cespedes, 2019)
Faber, a Canadian manufacturer, recently came out with a cross between a snowshoe and cross-country ski called an S-Line. Check it out – it's pretty cool. (S-Line, 2019)
A couple other great resources are The Snowsports Industries of America (snowsports.org). They are a non-profit set out to advocate for the industry and to convince consumers with their research and educational opportunities. Snowshoes.com focuses on… you guessed it, all things snow shoes. I won't steal their thunder. This is where you can find more than you ever wanted to know about snowshoes, but more importantly, how to select the shoe that's right for you.
I hope all my Coloradoan cohorts have forgiven my non-skiing trespasses. Albeit not (necessarily) via big slopes there is much to get busy with in the winter to keep us active and healthy. So, get out! Get snowshoeing!
References
Bradley, M. T. (2012, NOvember 25). Traditional snowshoe shapes, designs, and names. Retrieved from Showshoe Magazine: https://www.snowshoemag.com/2012/11/25/the-morphology-of-snowshoes/
Cespedes, A. (2019). Calories Burned Per Hour While Snowshoeing. Retrieved from Livestrong: https://www.livestrong.com/article/313849-calories-burned-per-hour-while-snowshoeing/
S-Line. (2019). Retrieved from Faber: https://www.fabersnowshoes.com/snowshoes/sliding-step/s-line