The story goes that in the 1860s some miners had found minerals they couldn't identify in the Colorado mountains. They were in a quandary about the whole thing. So, as the tale spread to the locals who make up names for things, this place became known as Quandary Peak.
Quandary Peak is the only peak to rise above 14,000 feet in the Tenmile Range in Colorado. It's near Breckenridge and can be viewed from Hoosier Pass and other nearby vantage points.
This was the first winter 14er climb for me. It was January 10th, 2015. I joined a group climb organized on 14ers.com, an information and community website for those who climb Colorado mountains over 14,000 feet in elevation. If you hike mountains in Colorado, chances are you are familiar with this website.
Bill Middlebrook maintains the site. He's somewhat of a local celebrity among people who frequent these mountains. He was among those in the group that day. I had a chance to speak with him briefly. Well, it was more like exchanging pleasantries. One of his "fans" was talking his ear off so I didn't want to add to the annoyance. Some people go to great lengths to get away from other people; there's nothing like being in your place of solace only to have someone jabbering your peace away.
We started the climb at daybreak. The east ridge trailhead (the ridge in the picture above) is right off Colorado highway 9 just a few miles outside of Breckenridge. The trail is 7 miles out and back from the lower parking lot, which was the only parking lot open in January.
We would follow the standard route, except there is one short diversion near tree line in the winter to avoid a potential avalanche area. It's all up hill, some parts are just steeper than others.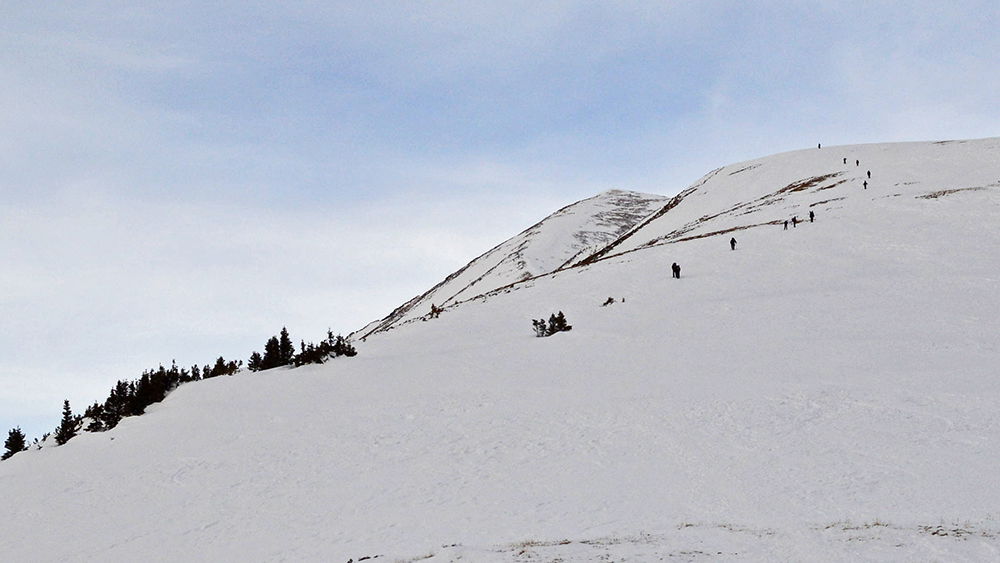 The wind that morning was absolutely insane on the upper ridge. I had no way of measuring, but I would guess that gusts were in excess of 50 mph. Winds like this are mentally torturous, enough for me to have frequent and serious battles against the urge to descend. One fellow climber just sat down because he was frustrated with getting blown over. I sat next to him for a while for morale support - mine and his. It's amazing how much strength I can muster when people are watching. We both got up and finished the climb. And as the great spirit of the mountain has the power to command the elements, a half hour later there was no wind at all.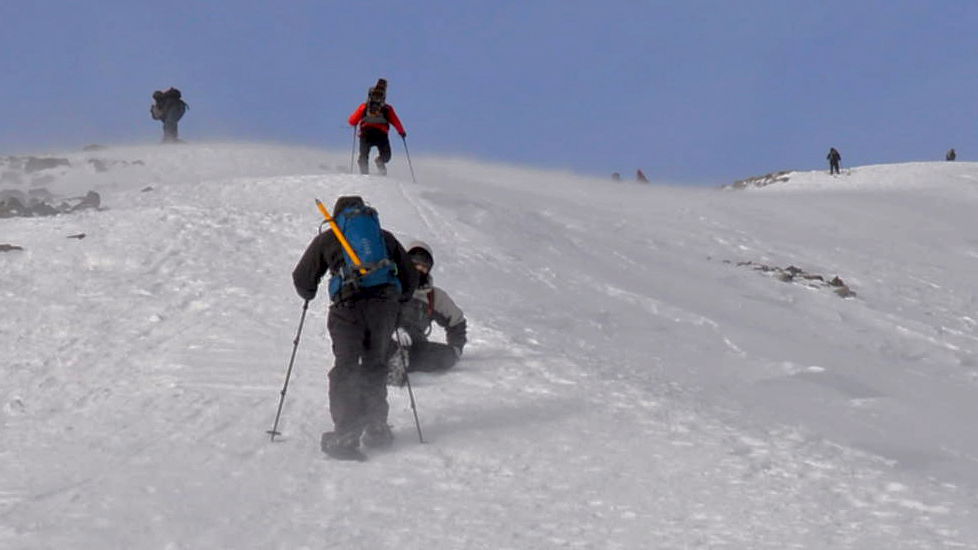 This was my first real lesson in the value of layering for extreme conditions. I had a moister wicking long sleeve shirt as my base layer and on top of that I had a polyester long sleeve shirt, a polypropylene undershirt, a fleece jacket, and a nylon wind resistant and water proof outer shell. This combination keeps the skin dry (and therefore warm), traps warm air around your core, yet breaths enough so moisture doesn't build up. Of course, if a person starts to sweat, remove layers - starting with the fleece. Sweat will eventually lead to a cold moisture layer, sucking body heat and potentially leading to hypothermia.
Sunglasses in this wind would have watered my eyes and potentially frozen my eyelids shut. Instead, I wore my goggles. They have great ventilation to keep from fogging and fit well with my balaclava. The nice thing about the balaclava I had was that the face portion is mostly neoprene, great for keeping out the wind, and the hat is mostly polyester, which breaths very well to keep your head dry and warm.
We didn't need snow shoes that day, the trail was hard packed enough. But on the way down the mountain, the sun began melting the snow. What had been crusted over on the ascent was now softening. Microspikes were important on the steeper and icy portions of the trail. It took me the better part of 4 hours to summit and less than two hours to descend, which is typical.
Also, on the way down I met up with three climbers who were ascending with overnight gear. They were training for a Denali attempt later in the year. Meeting all kinds of great people is part of the fun of Colorado climbing.
Once again, being on top of a Colorado 14er brought that old familiar feeling of accomplishment that squashes any discouraging or defeatist thought that might have otherwise won the day. I'll probably say this often: it's a spiritual experience being up there - nothing like I've ever experienced in my life. That's why I absolutely love doing this.