It's the late 1800s. Wondrous rumors of the Colorado mountains are circulating among people of the eastern United States and abroad. Wild and mysterious descriptions of the rugged territory are returning from surveyor expeditions to people with anxious imaginations. Albert Bierstadt fuels the intrigue with his stunning paintings. This is a period when belief in omens and signs was prevalent. It is the era of Manifest Destiny, when some early European American settlers believed they were under divine order, destined to possess and concur land to the west.
One story particularly captures the imagination of the faithful. It tells of an enormous cross of snow that has formed along the entire face of a hidden granite peek deep within the Rocky Mountains. Many seekers fail in their attempt to confirm the story because they either arrive at the wrong time of year or they just can't find the mountain. Some doubt, some still believe. It's an exciting story for the time.
Then in 1873 William Henry Jackson returns from the mountains with a photograph that stunned unbelievers and lit a fire among those who embraced what was obvious to them as a heavenly proclamation. It was physical proof that this mountain and that cross did exist. They would say the cross meant, "with this sign you shall conquer". Jackson proudly displayed the first image of what became known as the Mount of the Holy Cross, a peak that rises to a height of 14,005 feet above sea level.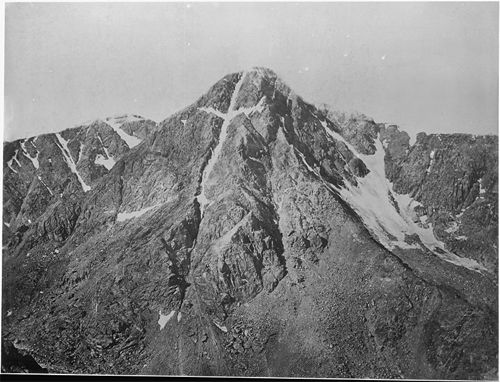 One hundred and forty years later, it's the early 21st century. Many thousands of people have ventured to witness for themselves this amazing spectacle. It's been a pilgrimage for believers, others are simply curious. The close-up view of the cross can be seen only after climbing Notch Mountain. Today it's an eight-mile drive off of Highway 24 and then a five-mile, 3000 vertical foot hike up the east face. Notch Mountain can be seen ten miles south of the intersection of Colorado Highway 24 and I-70.
Avid alpinists venture a climb to the summit of the Mount. And few among them set out to experience both the view of the cross and the Mount summit in the same day via Halo and Holy Cross Ridges that form the cirque above the Bowl of Tears.
Enter David and Brian.
We had been planning this for a couple years. With each plan something caused a postponement. It was not to be postponed any longer. We summited Mount of the Holy Cross and traversed counterclockwise across the Holy Cross and Halo Ridges to the very spot and view that held such mystery nearly a century and a half previous. It was one of my most challenging adventures in the Rocky Mountains to date.
We began our adventure at the end of the work week. Friday afternoon is not a good time to travel west on I-70; the traffic is thick with those heading to the mountains for the weekend. Today was typical. It was four hours of driving before setting up my weekend home, a tent near the Tigiman Community Center 6 miles up Tigiman Road off Colorado Highway 24 and five miles south of I-70 exit 171.
Although the weather report was promising no chance of afternoon thunderstorms, our experience in these hills set our plans for an early Saturday morning start. We've learned how fast weather forecasters can be proven wrong in these hills. An early start helps avoid the risk of being caught in the threat of a lightning strike or the unforgiving violence of a high-altitude summer afternoon storm.
We were up at 2:30 a.m. to be sure we were at the trailhead at 4 a.m. The trailhead parking lot was already overflowed a good distance down the road with those who spend the night in their cars before a hike. It turned out other small groups had similar plans as we met a dozen fellow hikers along the first 2.7-mile segment of the trail over Half Moon Pass and down to East Cross Creek. Along the way we caught our first glimpse of the famous mount.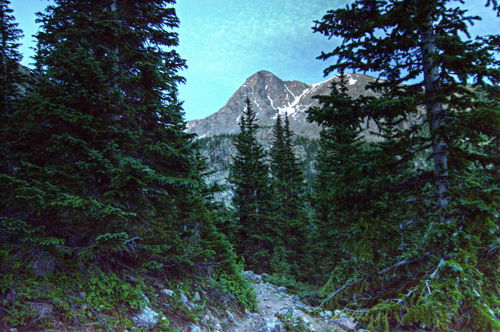 We started our trek with just enough water to reach the creek; one liter or less for the nearly three miles and 1200-foot elevation gain. At 2.2 pounds per liter, carrying only what would be needed is smart economy toward preserving energy over long distances. Today would be a long day. We filled our water bladders and bottles full because our next water source would be 10 hours away. It would add 7 additional pounds to our packs.
I've been asked about water filters recently. My answer was unequivocally, yes every hiker needs to carry one and/or water purification tablets. But the selection depends on several factors: number of people it will supply, expected quality of the water source, weight, size, and cost. Portable filter pumps can be pricey, so I would advise a good amount of research and asking seasoned hikers of the targeted area about their opinions and experiences.
The creek is where we encountered a healthy and hungry population of mosquitos. They didn't stop their relentless assault until we broke tree line about a mile and a half and 1500 feet above the creek. I grew up in a mosquito ridden place. Hate them. Most Colorado hiking is free of these pests from Hades. This place is an exception.
The trail after the creek is a constant ascent through occasional rock outcroppings and an increasingly less dense pine forest until reaching the open and rocky tundra of the north ridge.
We were about to get our first understanding that the theme of the day would become "rocks", as witnessed by the upcoming photos. It occurred to us that these hills are not so creatively named the Rocky Mountains.
The north ridge held much anticipation of the first close-up north-east face view with its dramatic and violent granite face, modestly highlighted by the morning sun.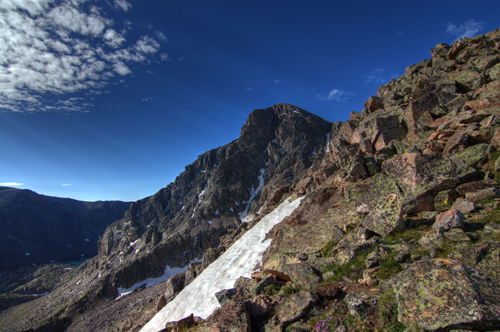 Large cairns mark the way to the saddle which still had snow below the summit. Even in July snow fields are still highly likely at altitudes above 12,500 feet in areas that get less sun exposure and where winter winds form impressive cornices, frozen waves of ice and snow. We walked across or alongside several of these on this hike. The slow melt forms divots worthy of an interesting photo.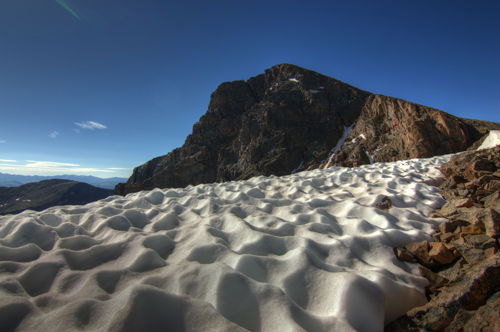 As mentioned earlier and like many Colorado mountains, the summit of this mount has a sheer rock face on one side with couloirs to invite the most advanced climbers, and the other side has much more approachable slope of talus and small boulders. The approach is a good resting place for a few minutes to take in the sight.
The final pitch to the summit is a good boulder scramble where trails cannot be easily discerned. Don't spend a lot of time trying to find the trail; the best way to do this is to just go up the safest way possible. Step carefully; some of these rocks are loose – even the large ones – a danger especially to climbers below. I know one fellow climber who suffered serious brain trauma by falling rocks from someone in haste for the summit above her. Her recovery time will be years; and she was wearing all the recommended protective gear. Safety is paramount; summiting is always optional.
At nearly 6 miles from the trailhead, the summit was expectantly beautiful. We stayed long enough to take a few pictures and have a short snack. There was a good crowd of people up here already at mid-morning.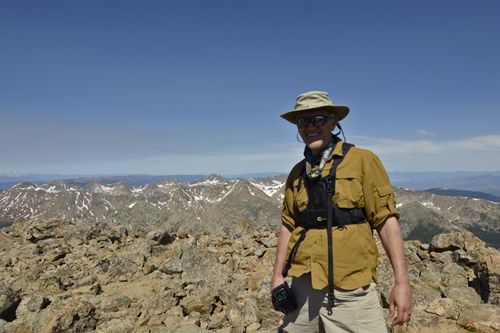 We didn't come here for a social event and we had a long way to go still. Onward to our next destination: Holy Cross Ridge Summit – 13,831 feet.
There is a bit of an altitude loss and some maneuvering around small snow fields before climbing up again. The sometimes-visible path to this summit closely follows the edge of the ridge, sometimes too close. We stayed a little further to the right. Our caution was two-fold: there was quite a bit of exposure near the edge with loose rocks all around us and the wind was becoming increasingly and powerfully gusty in the direction of the edge. I was knocked over once and I lost my balance several times on the way up. I'm not a huge fan of this kind of wind along a ridge. In the picture below I circled a hiker to give you a little perspective.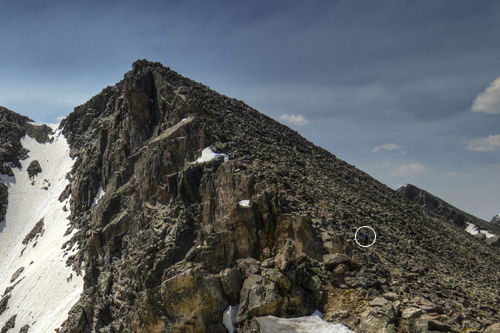 The final pitch to this summit was about the same as it was going up to the summit of the Mount. It's a smaller and more rugged summit area with a few hidden places between boulders that sheltered us from the wind. Again, we had another snack before moving on.
The rest of the ridge was crossing over two increasing smaller 13,000-foot unnamed summits and two gendarmes. I won't detail these; they all start to feel and look the same on a day like this. I will confirm that it was as others have described it: long and grueling with no reprieve from careful stepping, trying not to twist an ankle or bang up our knees and shins too much. The ridge seemed to be the longest part of the day, but it was only 2 miles.
Going in the direction we chose made it more difficult to find the trails around the shallow side of the ridge. The trails would have made the trek more navigable and would have taken us less time. Keep in mind these trails are not very visible in any direction, but the portions that are make for easier traversing.
We saw only one other person on the ridge. It was six hours before we saw another person.
One notable tip is to bring the route description. These can be found online, written by those who have gone the route previously. Without the route description on one of the 13er summits along that ridge we would have unknowingly headed straight to the edge of a sheer cliff, as we realized looking back at our path. Much of this ridge follows cliff bands. For the person who chooses to climb the ridge proper, the task is to pay close attention as to avoid close encounters with these cliff edges.
The Bowl of Tears became visible as we neared the end of the ridge. The Bowl of Tears is an alpine lake fixed at bottom of the cirque and near the foot of the cross. And on our final approach to the Notch Mountain cabin the famous cross came into view. Because it was getting late in the year when the snow melted away some of the cross, it was not fully formed but still enough to appreciate and admire.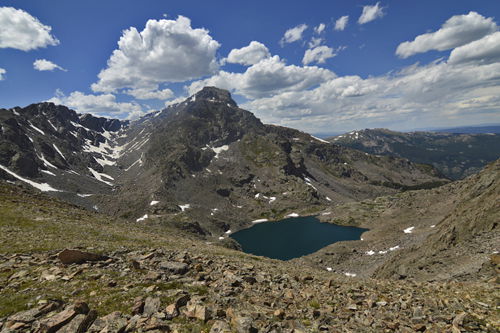 The cabin was a welcome site! We seriously needed to hydrate and refuel. So we went inside took off our packs and shoes and just laid on the wooden benches and floor for a little while. These long hikes make feet swell. It was good to take off my boots and put my feet up a while. But we couldn't linger here too long as the afternoon was getting old. Before long we headed out again.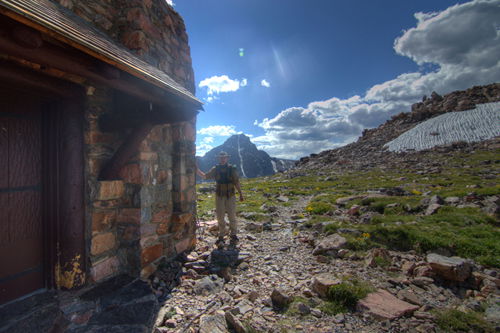 The descent to tree line is a series of 33 switchbacks that seem to go on forever. We kept ourselves entertained by counting them. From the cabin to the trailhead is four and a half miles – the longest four and half miles ever.
We were back to camp at 7pm. For those keeping track: we did 14.5 alpine miles in 15 hours with 6237 feet of elevation gain. Whew! It was time for a brewski, but I didn't have one and I had no energy to ride to the closest town for one. An electrolyte drink and a rehydrated meal would have to do.
I lit a campfire and stayed another night. Brian rested before heading back home to tend to some domestic responsibilities.
It is no wonder to me that early explorers had a difficult time finding this mountain. How excited they must have been to finally set eyes on its beauty and wonder. I may have been too tired to feel jubilance when I finally saw the cross, but as I reflect on it now, it was truly spectacular. Although, I'll admit it didn't instill any feeling of destiny in me to concur the west. So I think I'll just continue on, enjoying the hiking and the beauty.