Retail Price: $195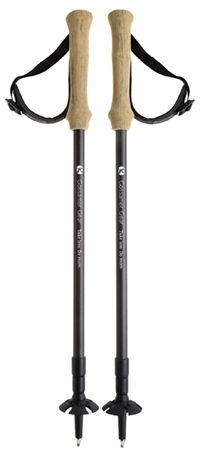 Website
First impressions
After first removing these poles from the shipping box I immediately understood the first part of the brand tag line - "Take less" - they felt incredibly light.
The simplicity of the design was evident. My eyes were first drawn to the cork handle, which at first glance seemed disproportionately large. Then I wrapped my hand around the grip and knew straight away that this wasn't a mistake. My hand seemed to mold into the grip; it was not a firm cork; it was not too soft; it's the Goldilocks of grips - just right, and it felt good. I made only a minor adjustment to the strap to make me feel like I had complete control of this trekking tool.
The basket, however, seemed quite small. When I put a basket on my poles I mean to have them cause serious resistance in snow. Although I didn't test these in snow, the size is not convincing me that they would aid much on winter hikes. However, it occurred to me that these baskets may have been intended for soft, marshy terrains – to keep the poles from sinking and getting stuck in the muck. So for now I'll reserve further comment on the baskets.
I had people ask me about the poles while I was on the Colorado Trail. These were people with hundreds of trail miles on the season; and they were using their own poles. Their initial comments were the same as mine with regard to the comfort of the grip the light weight.
Overall, great first impression!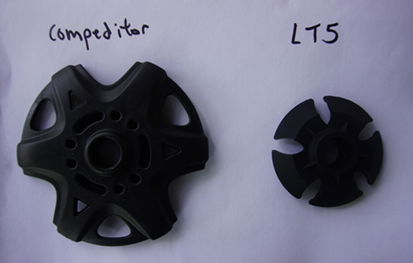 Experience with the product
I tested these poles for 350 of the most rugged miles on the Colorado Trail, including the Collegiate West alternate route, during July and August, 2018. This trail had various terrain features including surfaces of sand, grass, marsh, scree, talus, rocks, boulders, everything from level ground to very steep and unstable, and various road surfaces to single track paths. The trail offered a very wide variety of surfaces for testing. I took the poles through it all, with no less or more exercising than I would normally do with any of my pole sets.
Pros/advantages
Light weight. One thing any long distance hiker will happily do without is weight. At just 5 ounces per pole it snuffs out similar-cost competitors by nearly half (55-62%) the weight in some cases. I compared to similar Leki and Black Diamond models.
Locking mechanism. I am one who normally prefers a lever mechanism, mostly because of the (perceived) reliability. Although, I have had some levers fail by unclipping. I've lost sections of my poles on two occasions in the past with faulty lever mechanisms. With the LT5 I found that without exercising an excessively hard twist, these gripped firm and held their grip throughout the day and in all types of terrain and demand. On one occasion one pole slipped. To be fair, it was under more extreme pressure than I would normally not apply - using them as a crutch from a sitting position with a full pack. I would consider this beyond the expected application of the tool. As a result, I put the locking mechanism in the pro column because the performance was better than expected.
Grip. The comfort of the grip was a key first impression. Along with the straps, they provide the user more complete control of the pole. When I'm descending a mountain and having to make quick decisions on pole placement, I want complete and accurate control. I found these poles to be very responsive to these types of demands.
Compression. The poles compress down to a very packable size. Sometimes I have my gear in airline luggage. There are no issues with packing this in a suitcase or carryon.
Cons/Pain points
Durability. I am marking durability down a point for two reasons.
1) Early in the hike while navigating through some rough talus I snapped the tip off of one of the poles. I don't consider this to be a major issue because talus is not a friend to any trekking pole. Given the right circumstances, I could snap any pole in talus. The difference here is that I've used other poles in similar terrain. "Cheaper" ones have broken; more expensive ones have not.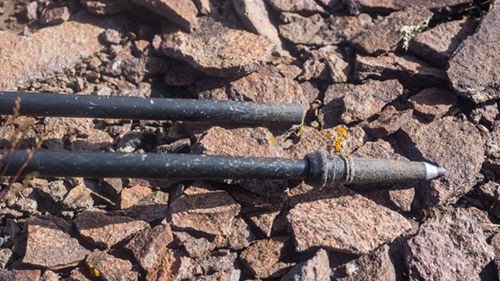 2) While using them as my tent poles, the cork grips deformed. I would manually reshape them every morning, but after 20 uses they started to show permanent creases that my reforming did not immediately remedy. Perhaps this is the tradeoff – they have superb comfort, but this may result in less durability.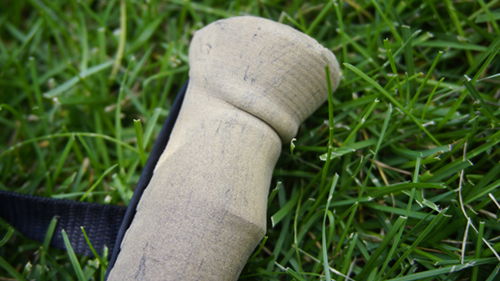 Just to exercise the poles further to see if it was a major concern, I chose to not trade them in at an earlier resupply point along my Colorado Trail route. I kept using them, even with a missing tip. There were no other durability issues for the remainder of the hike. So, I would give only a minor markdown for durability.
Gossamer has told me that they are experimenting with stronger construction materials for future improvements to the product to include the shafts and cork grip.
Target audience
Based on my testing I would consider the long distance or frequent hiker to be the primary audience. These type of hikers will most appreciate the weight and comfort. The cost point may be restrictive for the occasional hiker or the cash-tight adventurer. This product is for serious trekkers.
Price point
I would say these are most comparable BlackDiamond Alpine Carbon Cork and Leki Micro Vario TI Cor-Tec DSS poles. These retail for $170 and $160, respectively. Other similar comparable models are in the same price range. The LT5 retails for $195; 15-20% higher. The question is: are they worth the extra spend? I would say that if weight and sleeker design matter to the buyer – as it will for the target audience, then, yes it is.
Product Score and Recommendation
I give this product a 9 out of 10 points. I definitely recommend this product to anyone with frequent or long distance trekking aspirations, or to someone who doesn't mind putting their hard-earned money toward well-designed gear.