It's December 2017. My ambition is to hike the Colorado Trail in July-August 2018. It's not too early to be obsessing over my gear list for that hike... because that's what I do. And it's not just over gear; I do the same over maps, routes, resupply... the whole thing.
Below is a list of what is in my base weight... the things I am planning to take on that hike, less consumables (food, fuel, toothpaste, soap, vitamins, baby wipes, etc.). Total weight is: 16lbs.
(a few small items are missing from this photo... but, it's close)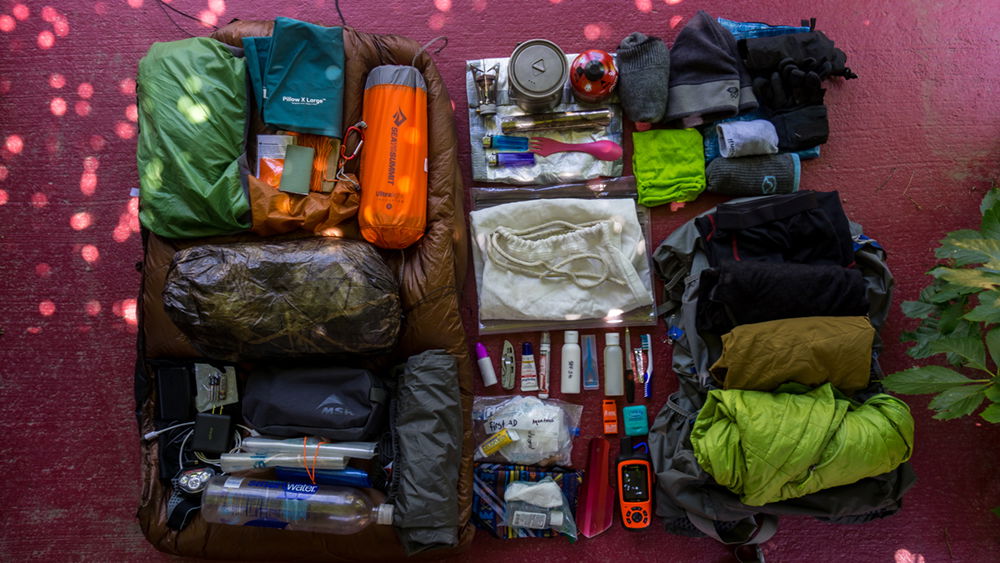 Pack - Gossamer Mariposa 60 - 37oz
Shelter
- Tent - Zpacks Duplex - 21oz
- Stakes - Boundless Voyage Titanium V-Shaped Nail Tent Stakes Ultralight

- 3.2oz
Sleeping System
- Quilt - Loco Libre Gear 20° Operator Series Ghost Pepper Topquilt - 18oz
- Pad - Sea to Summit UltraLight Insulated Mat - 17.4oz
- Pillow - Klymit X large pillow - 2.9oz
- Light Thermals (night) - Duofold Mid Weight Wicking Thermal Pant - 6oz
- Long Sleeve Shirt (night) - Thermowave Merino Xtreme Merino Wool Performance Base Layer 200 GSM - 6.8oz
- Night Socks - Possumdown Possum and Merino Wool Bushman's Friend Sock - 3.1oz
Clothing
- Rain Coat - The Packa - rain/wind coat and pack cover - 10.5oz
- Rain Pants - Outdoor Research Men's Helium Pants

- 5.7oz
- Rain Mitts - Mountain Laurel Designs eVent Rain Mitts - 1.5oz
- Extra Socks - Darn Tough Hike-Trek Merino Wool Micro Crew Cushion Sock

- 2.2oz
- Extra sock liners - Injinji liners - 1.2oz
- Puffy Jacket - Patagonia Nano Puff Jacket - 11.9oz

- Camp shirt - 8.4oz
- Gloves - Running Sports Gloves - 1.9pz
- Cold Hat - Mountain Hardware Caelum Dome Beanie

- 2oz
- Cloths Sack - zPacks Food Dry Bag - 1.6oz
Personal Care
- Trowel - The Tentlab Deuce of Spades Backcountry Potty Trowel

- .6oz
- First Aid Kit - Small assortment of ointments, bandages, optional meds (like an antidiarrheal) - 2.9oz
- Bandana - Pendleton Men's Jumbo Bandana, Warrior Rock Navy - 1.6oz
- Toothbrush - Compact, something like the BCB Adventure Folding Toothbrush - .7
- Consumables: floss, toothpaste, camp soap, Gold Bond powder, toilet paper, Repel bug spray, meds, laundry soap, sunscreen
Misc
- Fire Starter - 2 mini lighters - 1.3oz
- Headlamp - Energizer Vision HD+ LED Headlamp

- 3.1oz
- Knife - Gerber Ripstop I Knife, Serrated Edge

- 2.2oz
- Cord - 50' zPacks Z line slick chord - .9oz
- Databook - portion - 1.5oz
Electronics
- Charger - Anker PowerCore II 10000

- 6.8oz
- Camera Charger - 2.4oz
- GPS/Communicator - Garmin Inreach Explorer+

- 8.8oz
- Carried in a fanny pack: Camera spare battery, Sony a6000 w/16-50mm lens, camera remote control, dual wall plug w/2 cords, tripod
Kitchen/Hydration
- Spork - Tritan Spork with Full-Sized Spoon, Fork and Serrated Knife Edge - .4oz
- Water Purification - MSR Guardian Purifier - 22oz
- Stove - MSR PocketRocket

- 3oz
- Cup - 750ml Titanium Outdoor Camping Pot Cooking - 4.4oz
- Oil containers - empty for olive oil - .7oz
- Food Koozie - homemade from reflective blanket - 1.6oz
- Wind Shield - Docooler Ultralight Ultra-thin Titanium Outdoor Camping Stove Wind Shield Screen Windproof Plate

- .7oz
- Food Bags - LOKSAK Opsak Barrier 12 X 20
- 3.1oz
- Hanging Bag - Ursack MAJOR S29.3 All White Bear Resistant Sack Bag - 9oz
- Water Bottle - empty Smartwater bottle - 1oz
- Water Blatter - Platypus Platy Bottle, 2.0-Liter and 1-Liter

- 2.3oz
Adjustments I could make, but I'm reluctant:
I could leave my camera behind - this would save me 22.4oz. It's hard for me to not take my camera.
I could get a lighter stove - this would save an ounce, maybe 2. Concerned about durability and performance.
I could bring a lighter weight hanging bag - this would save me 6 ounces. There are a few places along the trail that I won't be able to hang, putting my food at greater risk. The URSack doesn't need to hang to protect my food.
I could not bring night cloths - this would save me 12.8 ounces. Because I sleep cold, dry cloths will help keep me warmer and will cause less ware on my quilt.
I could bring a lighter weight water filtration/purification system - this would save me 1 pound. With the very reduced and more common stagnant water sources I'm going with the less risky option, even though it's quite a bit heavier.