Take yourself back to a time before the last Ice Age. You are in a basin that is full of volcanic activity. Magma and steam from fissures in the earth are spewing and forming an erosion resistant crust of basalt rock on the surface of the earth for as far as you can see.
Then put time on fast forward to witness the scraping and carving of glacial ice on that same landscape. You are witnessing the formation of what we know today as the Flat Tops Wilderness Area.
On the trailing end of the melting ice, gravity forces the deposit of rock in a heap called a terminal moraine. It is forming what can be seen today at Gardner Creek along Forest Service Road 900 from Yampa, Colorado leading to Stillwater Reservoir.
The force of the ice on the upside of the glacier creates a rounded cliff. We call these formations cirques. We look up at the massive Chinese Wall to now understand that this is a large cirque.
Then you notice two cirques pressing together forming a narrow ridge between them. This is called an arête. And today as we hike and scramble across The Devils Causeway with 300 foot drops on either side of a very narrow path over boulders, we realize that this is such a formation. At one point in history on either side of the causeway was a glacier receding and breaking down the basalt crust that had been formed so many years ago.
As the glacier melts downhill, it scrapes bedrock and forms vertical indentations in cliffs called straitions. We see these straitions as we inspect the face of the many rock cliffs in this place.
The slower melting ice erodes and forms depressions that fill with snow melt and rain. These depressions are now kettle lakes. The valleys below the volcanic cliffs in this Wilderness Area are peppered with 110 lakes and ponds, many of them are kettle lakes, like Little Causeway Lake.
Until the 1860's this area had been the home of the Ute Indians for generations. By 1868 the U.S. Government restricted their rights to this land by treaty. And when tensions between homesteaders and the native people culminated in the Meeker Massacre in 1879, the Utes were forcibly removed from western Colorado by federal troops. They had lost forever the land they once called home.
This 235,406-acre Flat Tops Wilderness Area was established in 1975 under the Wilderness Act. It's the second largest Wilderness Area in Colorado and home to some of the most amazing views the State has to offer.
****
Several years ago, I met a forest service worker in the White River National Forest. She was originally from Michigan as I am. We talked about the solitude of Isle Royal, a national park island in Lake Superior. I asked her if she could recommend a similar place of solitude in Colorado, knowing that popular hiking trails in the state were losing some of their appeal due to the increasing population of the State. She mentioned that the Flat Tops Wilderness Area is such a place.
Today I set out to explore the Flat Tops. And I can say, at the risk of causing a spoiler alert, that the forest worker's advice was dead on. This is a magical place.
Several weeks prior I had met a guy who had a good amount of backpacking experience. We had hiked in the Sangre de Cristo mountains together several weeks ago and then decided to plan this trip together. Seth and I agreed to start on a Monday morning to even further increase our chances of isolation. Weekdays are less populated on any trail here in Colorado.
With an early start and a 5-hour drive, we arrived at the Stillwater Reservoir by 10am. The parking was already full. Along the way we drove through open range experiencing a large herd of sheep on the road. We also drove by a fish hatchery where we saw a bald eagle, not a common sight in Colorado.
Both Seth and I video and photograph our hiking experiences. And so, we began our trek with a brief recording at the trailhead to commemorate the start of this adventure.
The trail follows the shoreline of Stillwater Reservoir for a short time before making an abrupt northeast turn toward the saddle below the northeast end of Devil's Causeway. Just over 1400 ft later, we summit the saddle at 11,670 feet and begin our descent into the lower cirque below an 8-mile stretch of trail along the north-eastern face of a massive wall of rock. We pass Causeway Lake, Round Lake, Long Lake, and East Lost Lake before reaching our destination for the day: West Lost Lake. We hiked 11 miles the first day.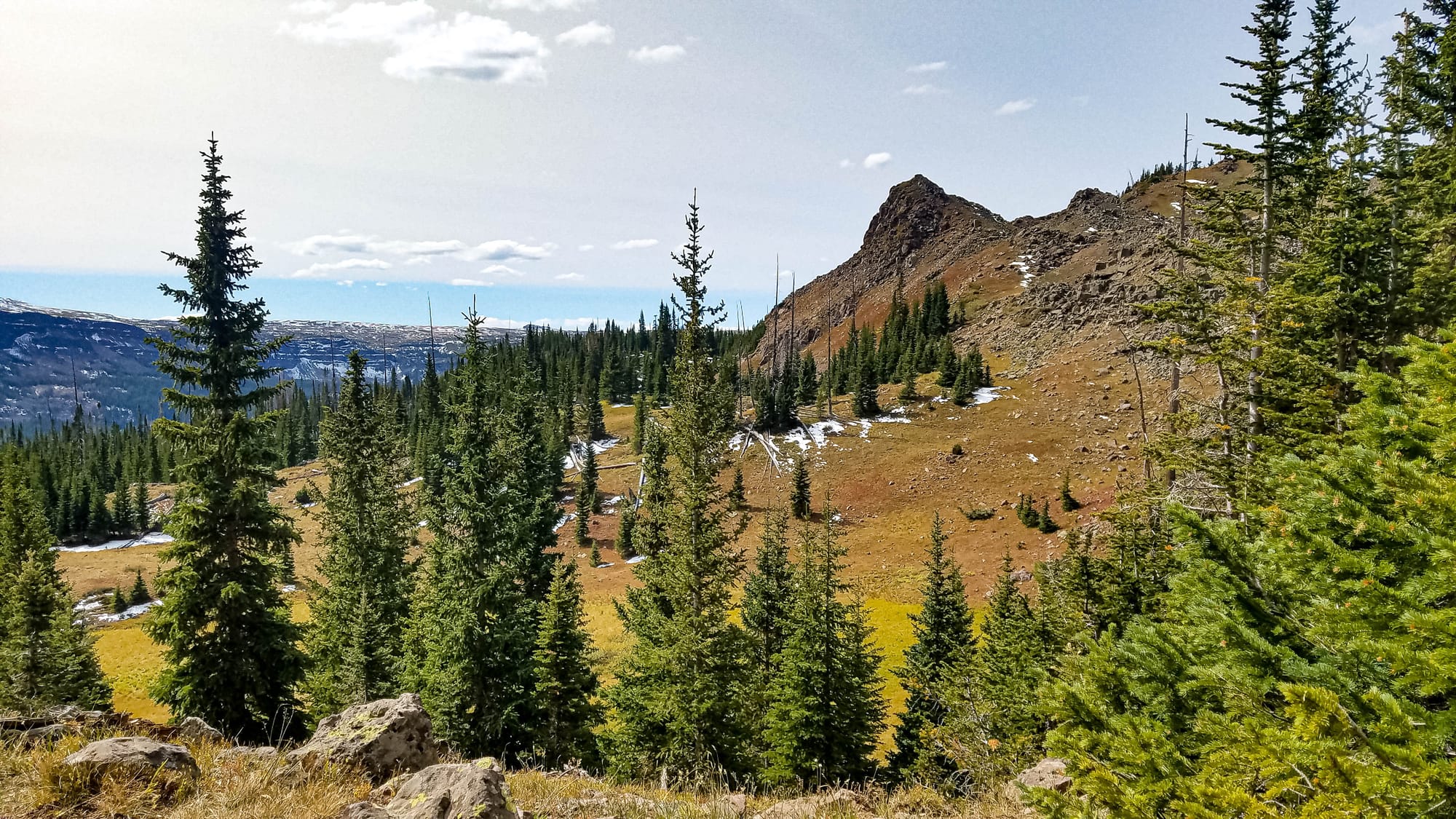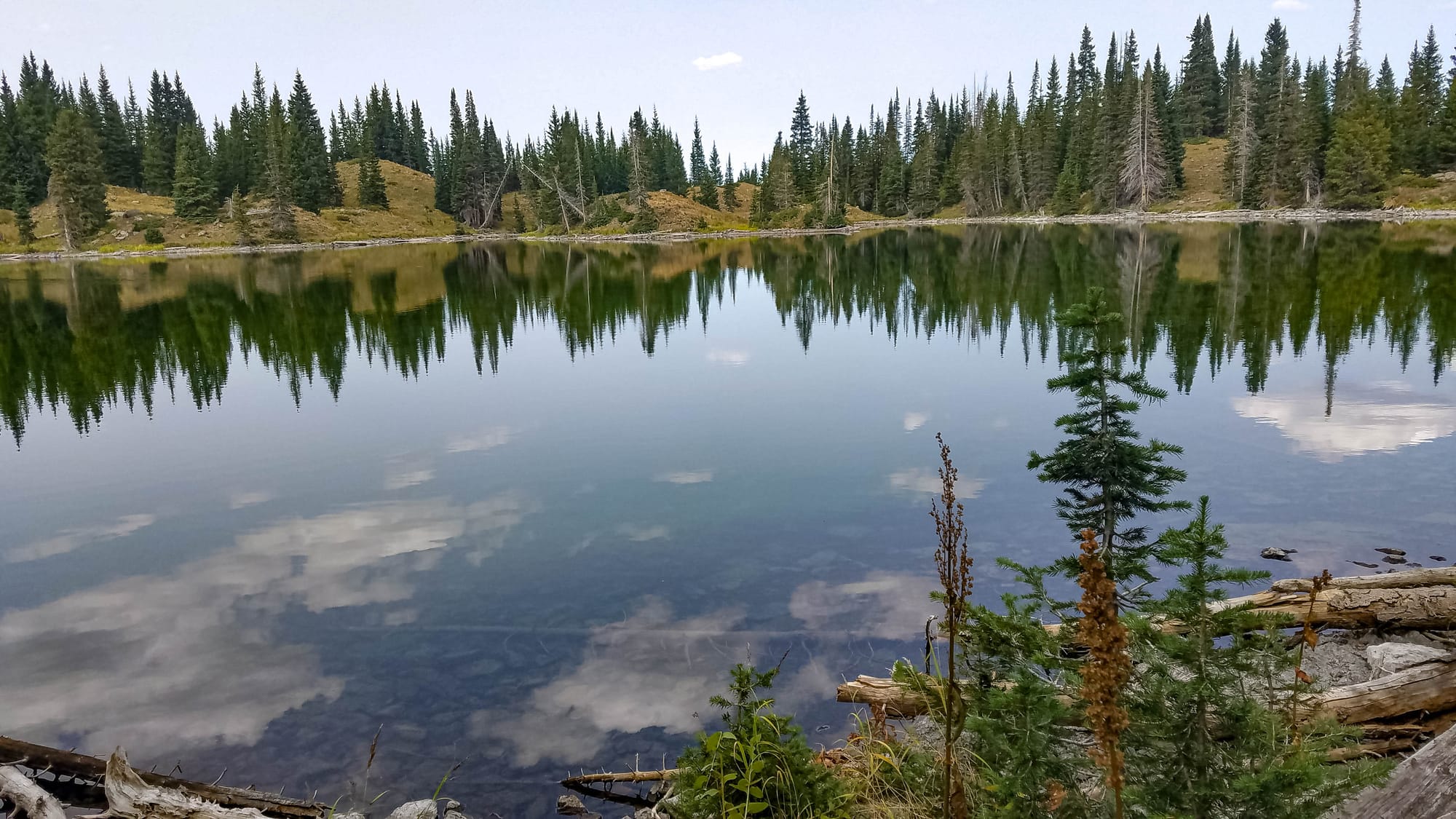 On day two we begin an immediate 1200 ft climb into the tundra that makes up much of Chinese Wall Trail. For the first several miles this trail is well-marked and obvious but disappears into the tundra grass for most of the 6 miles along the upper ridge of the wall we viewed the day before. It then intersects with Devil's Causeway Trail. We turn south (right) at this point. This tundra walk is a stark contrast to the previous day's hiking through established trails with plenty of creeks and lakes nestled in conifer forests. Today we are above tree line, enjoying expansive views of the Flat Tops, exposed with no available water sources.
The trail intersects with Little Trappers Trail 2.1 miles later. We turn right on this trail and in just 2.8 miles we arrive at our camp for the night: Little Trappers Lake.
In August 2002, a fire ripped through this area, burning just over 17,000 acres. The trail switches back and forth through the devastation. No live tree is left standing throughout most of this section of the trail. It's desolate. Fortunately, Our camp was in a grove of the few pine trees that were spared next to the lake.
The open marshy area east of the lake had our eyes searching for moose or elk. But none were to be found. However, not long after we settled in our tents for the night, we heard a bull elk bugling near us, which continued for the next couple hours. There is nothing like the raw sounds of nature. Being among wild animals is such a thrill.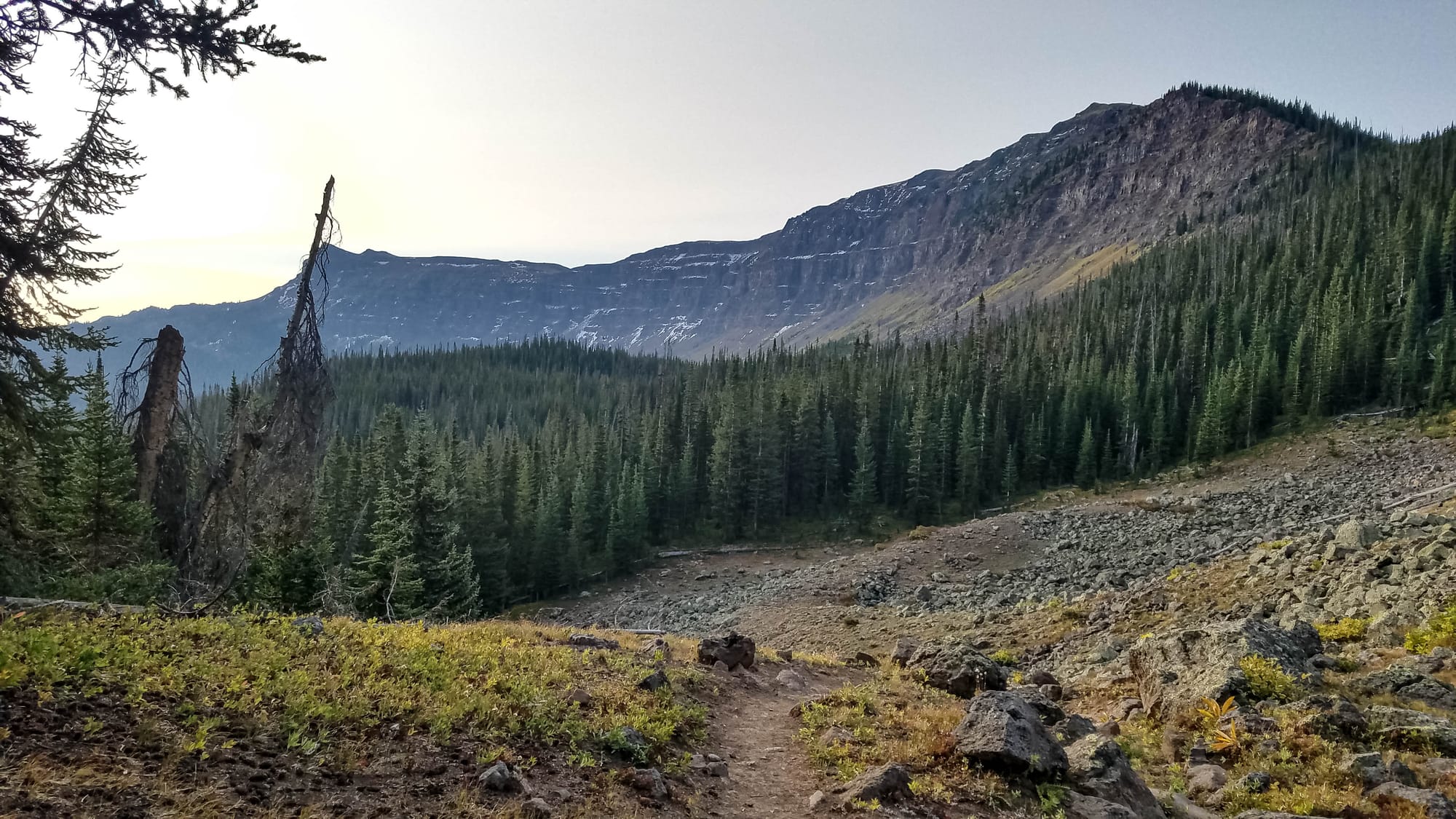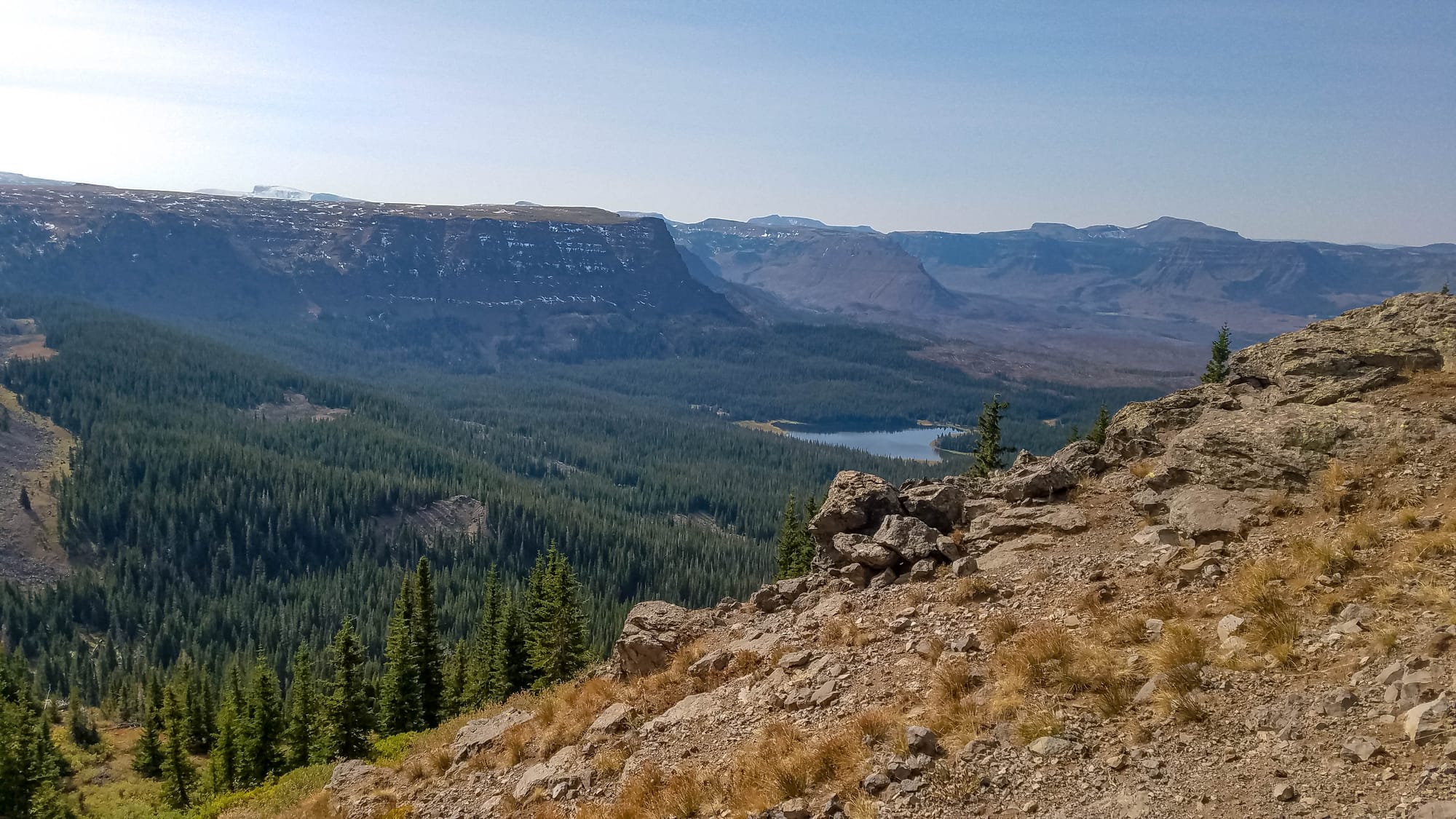 On day three we decided to start shortening our days. The IT band in my right leg was giving me problems and Seth liked the idea of slowing down to enjoy the trip without the stress of making bigger miles. Our destination was Wall Lake, 8 miles up the trail with a 1000-foot climb to start the day.
The walk along the eastern shoreline of Trappers Lake was mesmerizing. The trees were turning colors next to the trail and the reflection on the still lake of Flanders Benchmark (11, 493 ft) that morning kept our attention for the first mile.
The trail we followed that morning is named after the person who first introduced the idea that wild places should remain undeveloped. The ideas of Arthur Carhart led to the creation of the Gila Wilderness in Southwest New Mexico as the first of its kind in the world. His ideas had a major contribution to what we know today at Wilderness Areas. I recently talked with some friends in Europe who were unaware and astonished at the great privilege of these lands we have here in the U.S. We should never take these places for granted and we should all work to preserve them. They truly are a national treasure.
We followed the Arthur Carhart Trail around the lake which led up to the 11,000 foot saddle above Trappers Lake to Wall Lake Trail and eventually to Wall Lake, our camp for the night.
Along the way we met an Elk bow hunter who was looking for a rumored herd of several thousand. Along the way we thought about how magnificent it would be to come across such a large mass of these majestic creatures. But no such luck. We didn't see a single one.
At Wall Lake we found a nice spot to camp on the north shore. The lake is so named because of the 150-foot cliffs along its south and southeast shore. There were a couple of hunters camped not far from us. They didn't get back into camp until after we had turned in for the night, but we heard them calling elk from camp early the next morning.
Wall Lake is also set at the top of a natural amphitheater. To get to the overview from where we were camped one would have to navigate some nearly impenetrable brush. We attempted the next morning but didn't find the allure to be more attractive than the effort.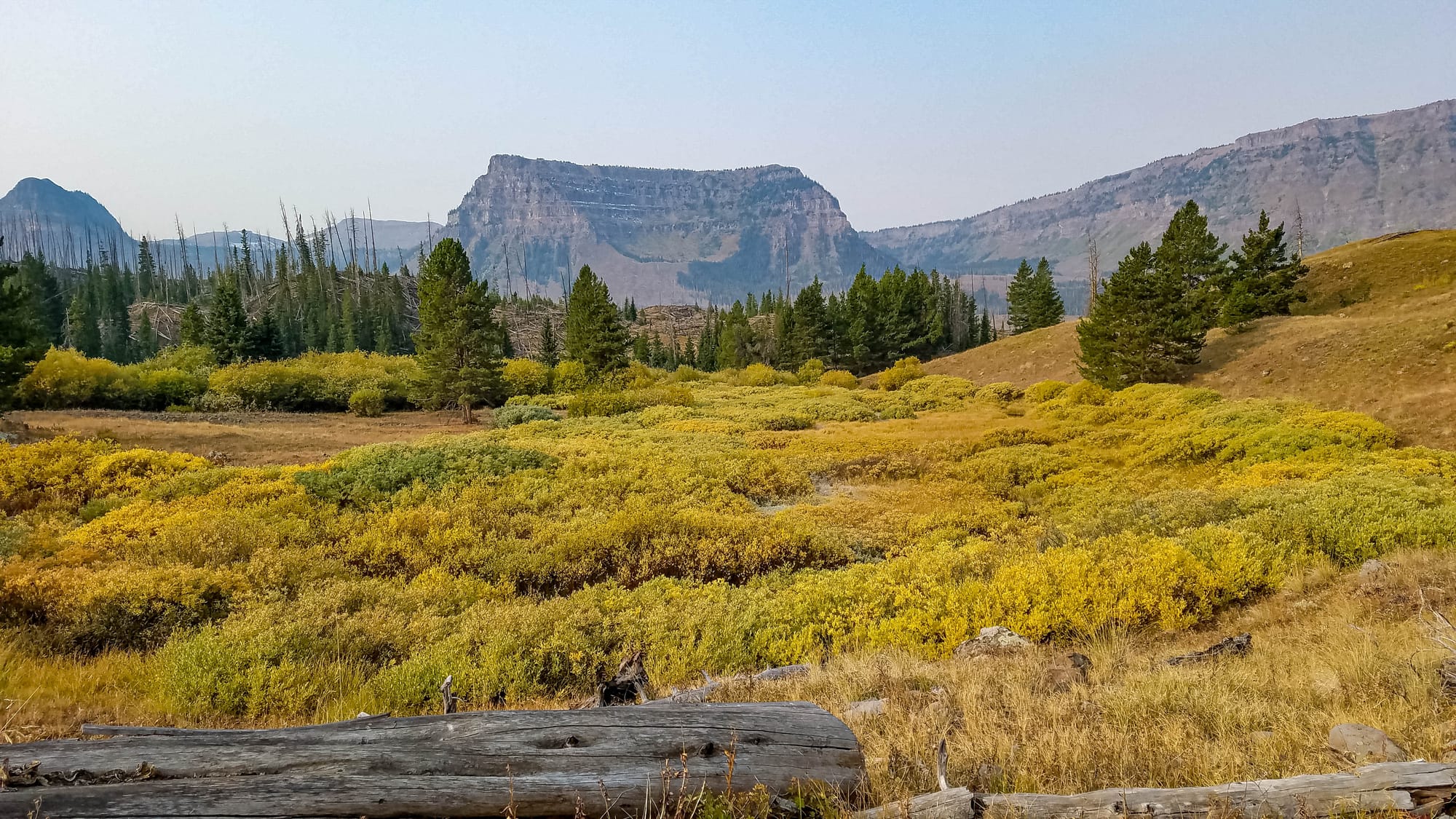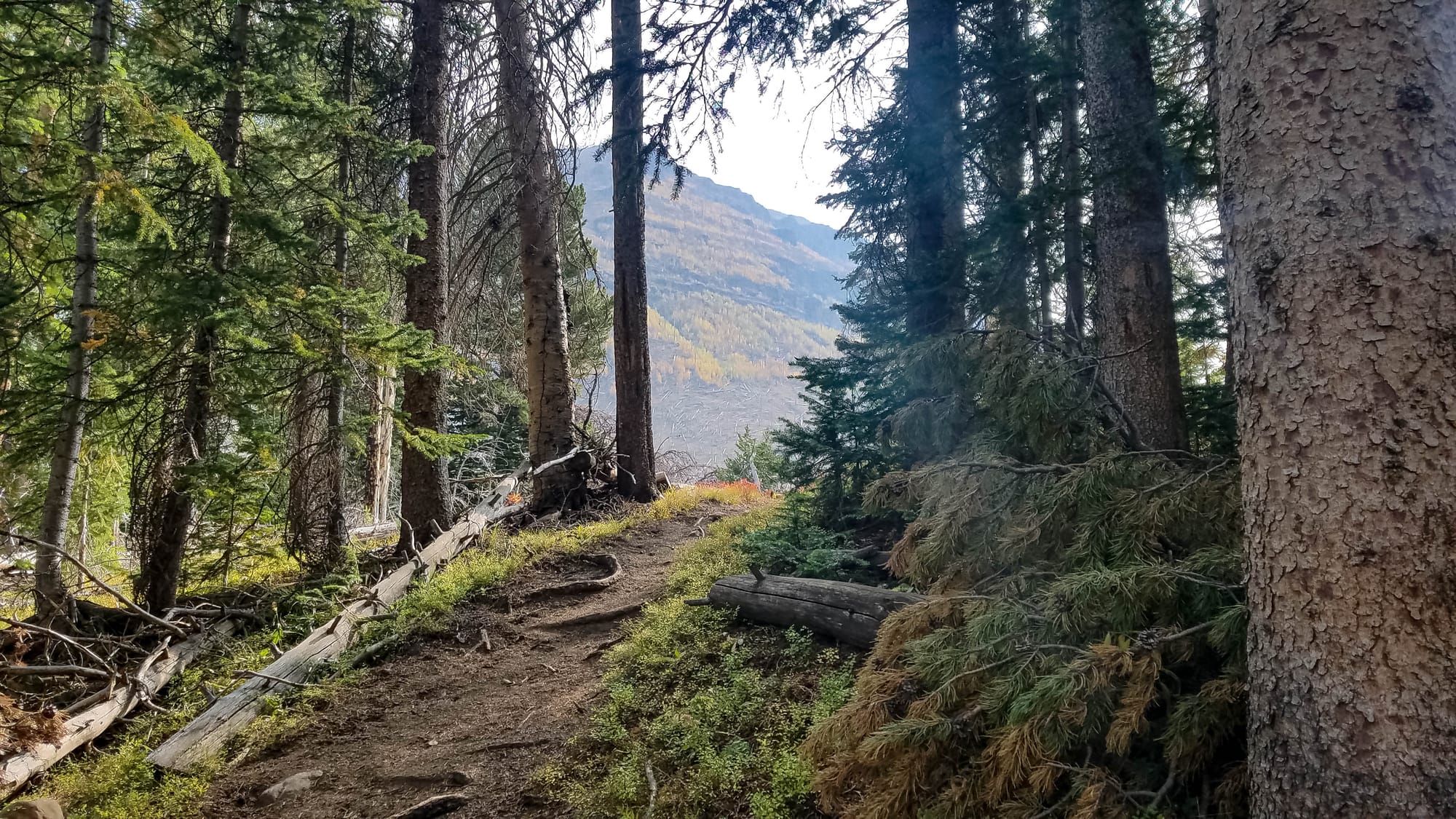 On day four we had a quick hike to the top of the cliffs for a great morning view of the lake. Then we were off through an area that had dozens of small ponds/lakes, turning north again for a short distance along the Trappers Lake Trail. The land here was mostly void of trees, but we very much enjoyed the open spaces, mountain meadows, and great views. This is the area marked on the map as The Flat Tops.
One spectacular place we rested was just above Island Lakes. The air was still a bit hazy from the fires, but that wasn't enough to deter us from gazing at the collection of lakes below surrounded by fast rising mountains. On one side snow had already settled into the shadowy slopes. On the other side was a red mountain with spires of what looked to be an iron laden deposit with jagged spires jetting skyward. The vegetation all around us and throughout the valley was turning gold and rust from the arrival of fall. The breeze was cool and refreshing. Fall is absolutely my favorite time to be in these mountains.
After Island Lakes it was only 2.3 miles to our planned camp at Deer Lake. Although the map doesn't show it, the approach to Deer Lake is a series of abrupt switches in the trail. At one point it leads to tip of a cliff where we were teased with a couple bars on our cell phones, which didn't allow us to text our status to the family. I send messages via my GPS transceiver every day. Up until today I had not received any responses from my wife. She typically responds every day. I confirmed later what I had suspected. She was not receiving the messages and was quite worried. Later than night one message finally went through to her and she responded. After I was back home I received a message from Garmin (my GPS service provider) that they had some technical difficulties connecting with AT&T (my SMS provider). The lesson learned here is to send check-in messages to multiple providers if possible (email, SMS messages to friends) and have all recipients check in with each other when I'm on these trips.
Deer Lake as another great setting. It's a smaller lake than previous camps with fewer options for camping, but we make it work. That night we had some coyotes howling near us, echoing off the rock walls. The first time I heard coyotes when camping it was a little creepy. But now, after dozens of these experiences, I find it exciting to part of this wild adventure.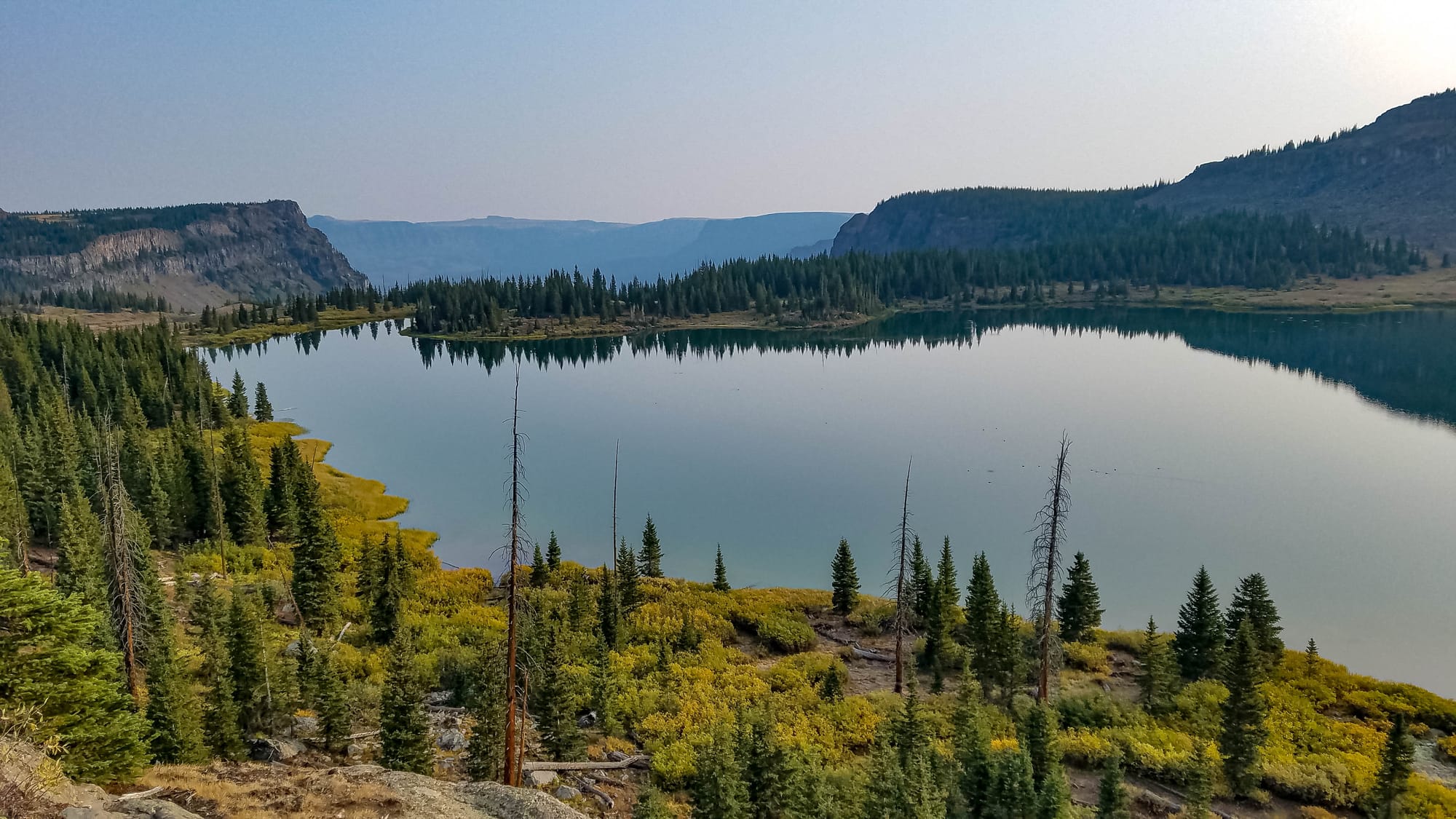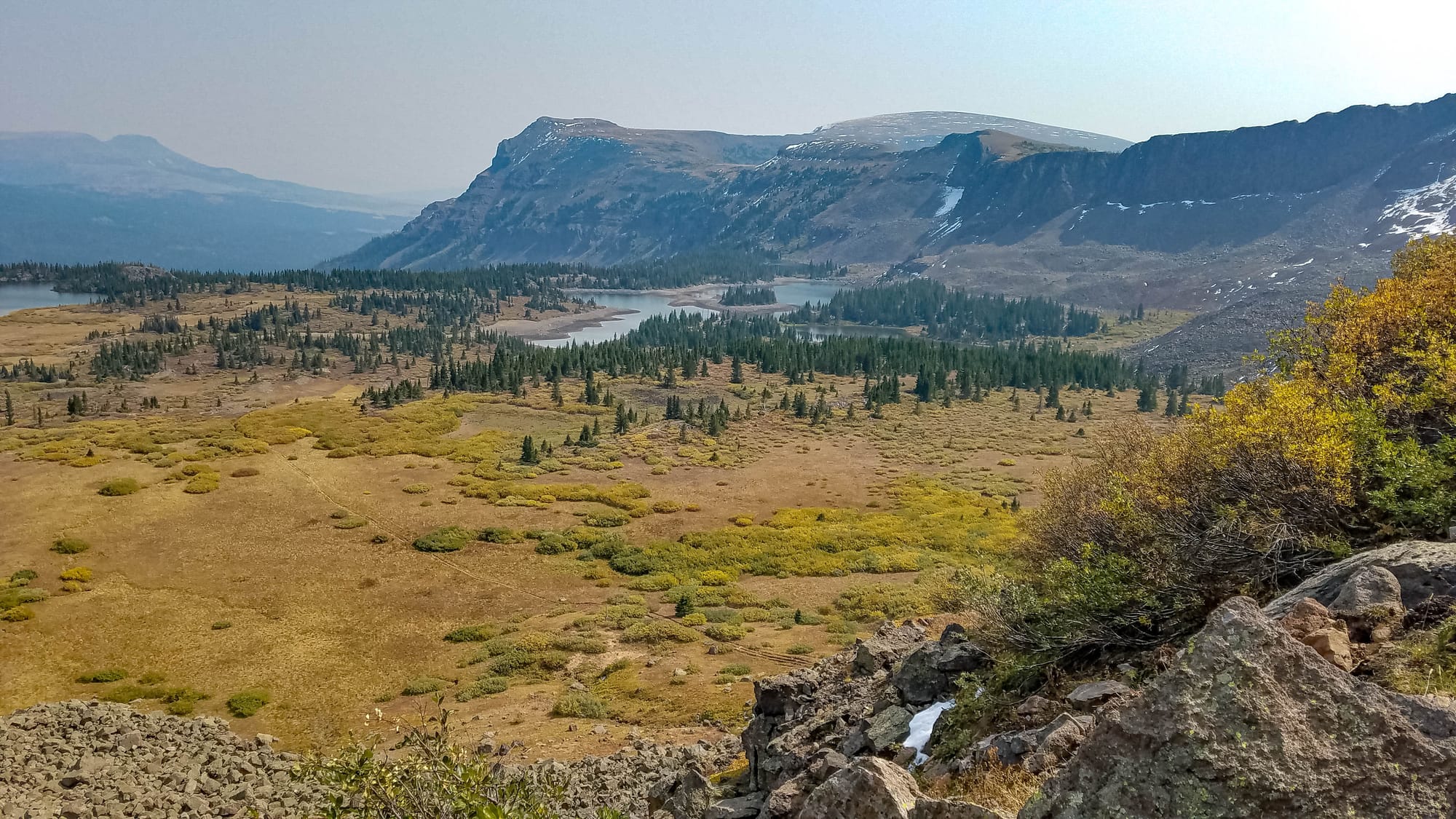 Our final day on trail took us further up Deer Lake Trail, intersecting with Chinese Wall Trail, and eventually to Devil's Causeway Trail. The highlight was crossing Devil's Causeway. At one point the trail narrows to just a few feet with 300-foot cliffs on either side. What a thrill! (for a guy who isn't very fond of heights).
The trail on our last day wasn't full of mountainous vistas, but the openness of the area invited a sea of thoughts and allowed the mind to drift into places not allowed in my normal work week. These times cleanse us and relieve the tensions of modern life. I find that these times bring some of the greatest benefits to being on trail. We all need renewal. We all need a little R&R. Although trail life is work, it also brings rejuvenation and it refuels us. Take advantage of these opportunities.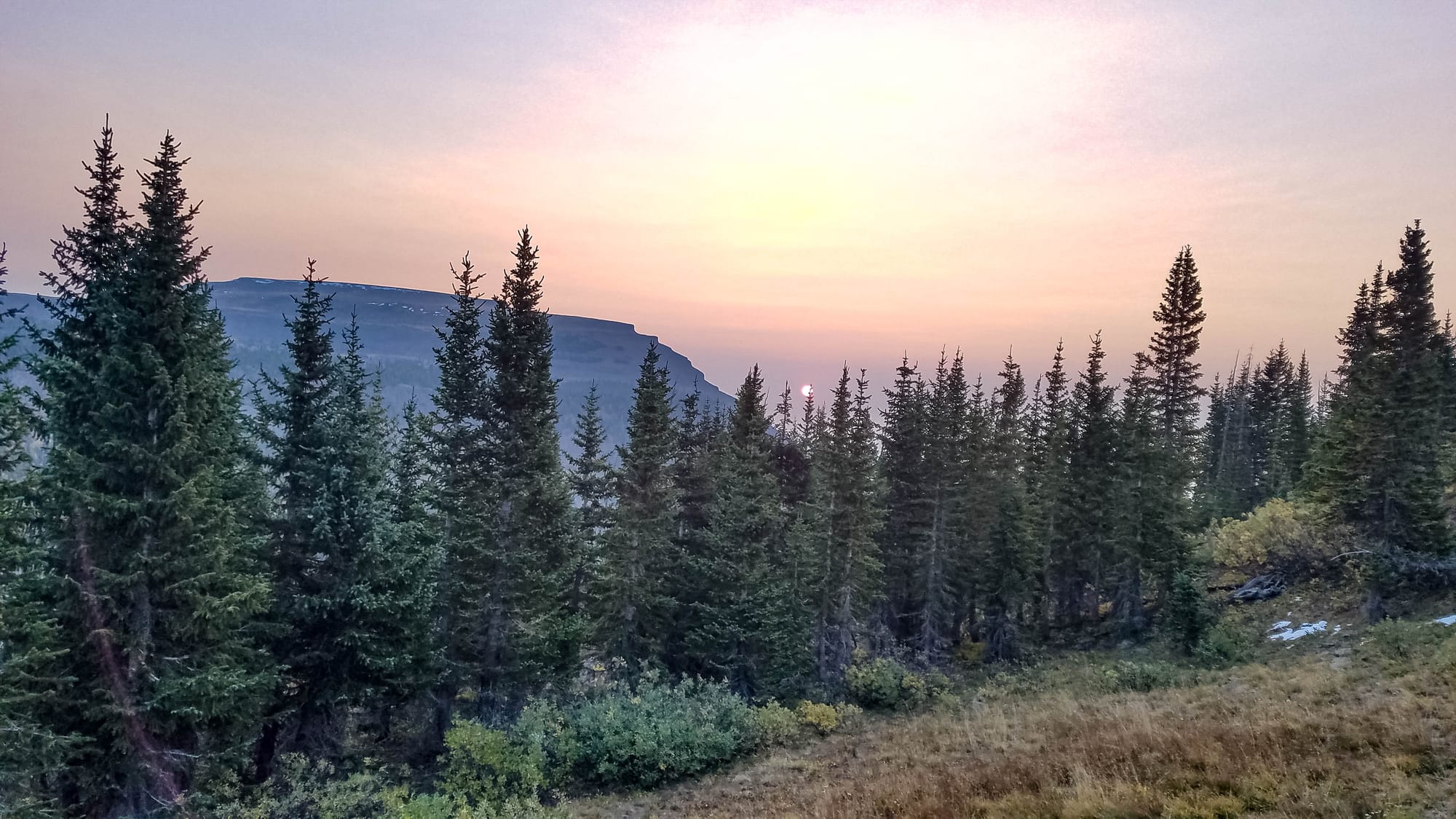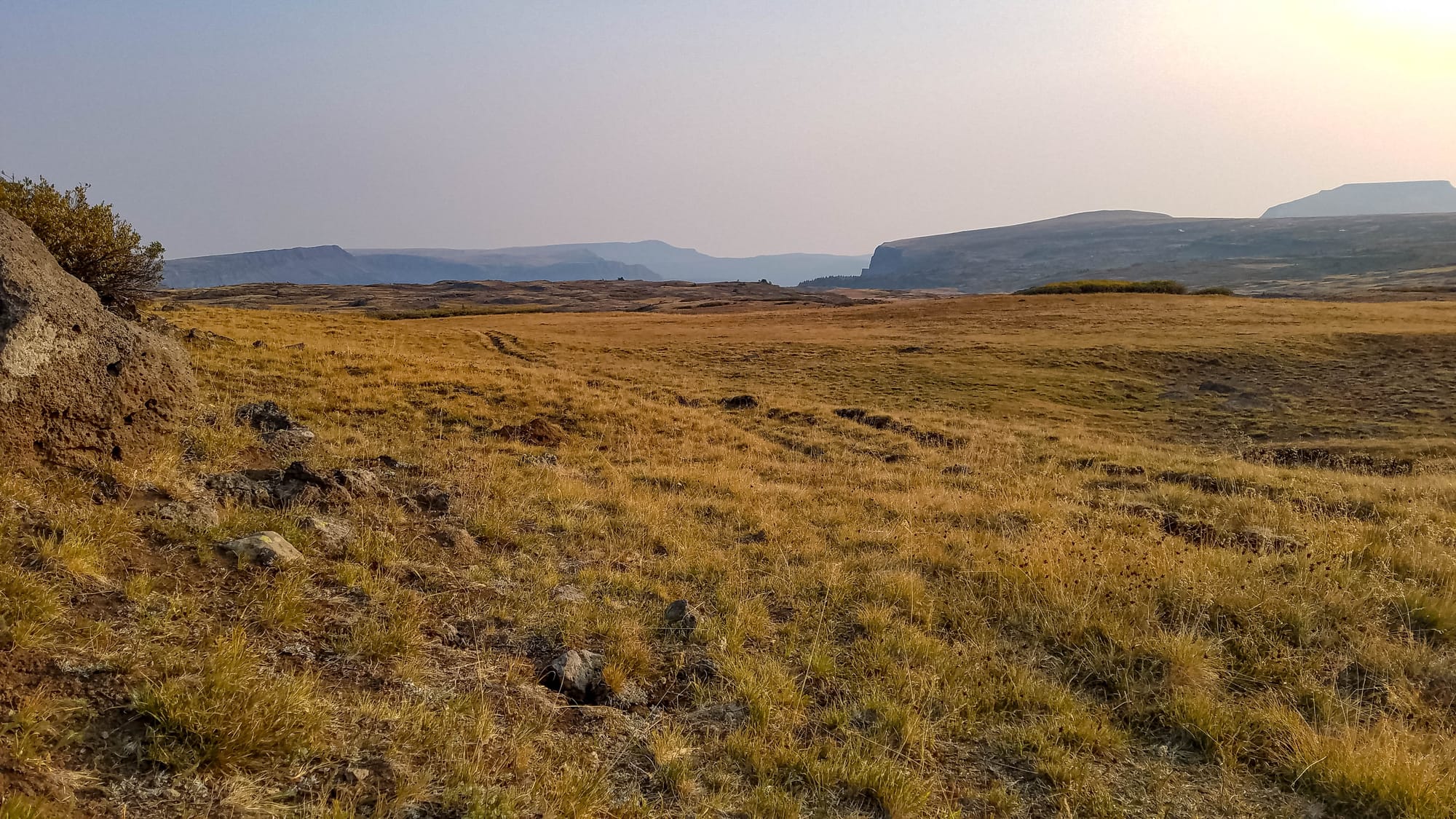 A video representation of this experience is on my YouTube channel. I hope you'll tune in for the series and image yourself in these places I go.
Happy trails!