The Arizona National Scenic Trail (AZT) is 800 miles long. It's a north-south trail with one terminus at the U.S-Mexico border and the other at the Utah-Arizona border. It's a young, primitive trail, completed in 2011 and designated as a National Scenic Trail in 2009. As one of only 11 named National Scenic Trails in the U.S., it is in an elite group and quickly gaining notoriety as one to be on the resume of esteemed long-distance hikers.
My plans are to begin at the southern terminus, U.S.-Mexico Border Monument 102, this winter and hike the first 170 miles. Unlike my thru hike of the Colorado Trail in 2018, I will section hike the AZT. For those who may not know, a thru hike is a continuous terminus-to-terminus hike. Whereas a section hike is walking portions of the trail, completing the trail after several non-continuous treks. Per my current plans, I will section hike the AZT, completing in 3 or 4 years.
I have hired a ride from Tucson to Montezuma Pass. From the pass it's a two-mile hike down to the border and a decent climb back up to the pass. This year the trail will lead me through portions of Huachuca, Santa Rita, and Rincon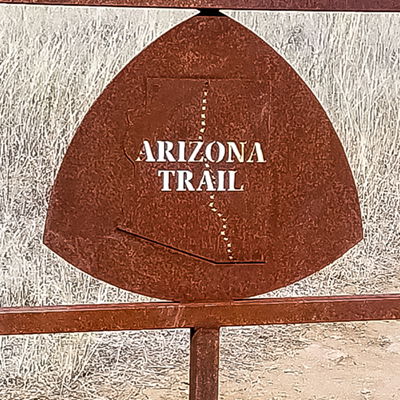 Mountains as I head north to Tucson and end my trek in the Santa Catalina just north of the city. I will spend the entire 170 miles in the Coronado National Forest, passing through Miller Peak Wilderness, Mount Wrightson Wilderness, Saguaro Wilderness, Saguaro National Park, and Rincon Mountain Wilderness. My trek will end just short of the Pusch Ridge Wilderness at Molino Basin Campground where I will catch a ride back to Tucson on the Catalina Highway.
I'm not settled on this 4-year plan yet. I've never hiked in the desert before. But more than one well-respected thru hiker found their first love of hiking in the desert southwest. There is something apparently magical and inspirational about the desert. I'm going on this first section hike to discover that magic. I may not find it. And if I don't, that's OK. We're all different and there are many other places yet to explore and experience. If I do find the magic, I will most certainly be back next year to continue the experience.
To prepare for such a thing can be as detailed or as loose as a person wants to make it. But what works for me is a regiment of activities such as: trail research, meal planning, resupply planning, physical training, preparing and practicing with my gear, and building mental toughness.
Trail Research
I like to know what I'm getting into. So, I've spent the past several months searching the Internet for videos and writings from others about their experiences on this trail. I also became a member of the Arizona Trail Association to gain insight from those who are most intimate with this trail and community. Plus, I received a bright orange AZT bandana out of the deal. So, that's something.
Meal Planning
I've also planned out my 10-day meal schedule. This time I'm going stoveless. This is commonly referred to as cold-soaking. I'll likely write more about it after I return. The menu is not all that different than what I would bring if I did have a stove. Many long-distance hikers go stoveless. I need to try it.
Physical Training
Physical training is part of my life. Staying active is important to me. I'm more intent about it if I have a goal in mind. This year it is the AZT, and I may also do the 87-mile Collegiate East route of the Colorado Trail. My daily routine has included neighborhood hikes and the gym, focusing on endurance training. During the weekend I'm usually on a trail near Colorado Springs with my full pack, testing out my gear and locking in what I will bring with me.
Gear Readiness
My gear required some adjustments. My "big three" will remain the same. That is, I won't be changing out my shelter (ZPacks Duplex), sleeping system (Sea to Summit insulated air pad and Loco Libre 20 degree Ghost Pepper quilt), or pack (Gossamer Gear Mariposa). New things I will bring include a reflective umbrella to help combat the sun and rain, a flex kit for my tent (to convert to a free standing tent), a lighter water filter (Sawyer Squeeze), a ground cloth and thin foam pad to help combat prickly desert things from deflating my pad, and a light weight hoodie to help block the sun. I also won't be hiking with my Altra trail runners. I've been using Topo Athletic Terraventure 2 trail runners because I favor the more rigid and durable Vibram outsoles over the minimalist BareSole of the Altra.
Mental Training
Being mentally prepared is quite possibly the thing that most people miss in preparing for a long hike. And lack of mental toughness is probably the most significant factor in why people exit their hikes. It's easy to get gear ready. Being physically prepared is important but over emphasized. Some degree of trip and meal planning is necessary, but changes happen quickly and generally come easy while on trial. But the hike is most vulnerable to failure if a person can't handle the mental challenges.