The witty French writer Nicolas Chamfort was one to schmooze with the high society aristocracy in support of the French Revolution. He credited a well know phrase to someone by the name of Mr de Lassay, his frequent mouthpiece. De Lassay suggested that if we ate a toad for breakfast it would make the rest of our day seem pleasant, especially in dealing with the disgust of society. It was later translated into English with a slightly different application. If we eat a frog first thing every morning the rest of our day will seem much better. Self-help books have used this phrase as an aid in dealing with procrastination. If there's a big thing we know we should do, then just do it and get it out of the way to make the rest of our goals seem more achievable.
Well, today Brian Listy and I ate the frog. A few months ago I learned about the Boulder Skyline Traverse. At a reported 16 miles and 6000-foot elevation gain, this was surely at the outer rim of my ability. It would be something I would need to train for all year and possibly attempt near the end of a hiking season if I felt I could do it by then. Scrap all that crazy talk. We did it today, at the beginning of our summer hiking season.
Part of my strategy was to break it down into something that didn't sound so big. We would hike only about 375 feet in elevation per mile. So, how hard could that be, right? Of course, the intent here is to think about the trek one mile at a time.
The weather forecast projected this day to be all sun without a chance of afternoon thunder showers. Early Spring in the Rockies before the monsoonal patterns begin with predictability is a great time for hiking. This day was stacking up to be ideal. And it was. The Boulder Skyline Traverse is essentially every major mountain seen when looking west from Boulder: South Boulder Peak, Bear Peak, Green Mountain, Flagstaff Mountain, and Mount Sanitas. It's not one continuous trail, it's a series of connecting trails. If starting on the south end the sequence is commonly this: South Mesa Trail, Shadow Canyon Trail (this will lead you to the saddle between South Boulder Peak and Bear Peak), Bear Peak West Ridge, Green-Bear Trail to Green Mountain, Ranger Trail, Ute Trail to the summit of Flagstaff, Flagstaff Trail, Viewpoint Trail, Settler Park Trail, and finally the Mt Sanitas Trail to the final summit. It's a little bit of a puzzle.
There are plenty of websites that have all the technical details of the trail, so I won't go into all that except to give some context to the images I've placed in this report.
A note on logistics: we left one car on the north end and drove to the south end where we began our hike north.
We started at the south end because after the climb up the steep and rocky Shadow Canyon Trail the rest is down-hill… kinda. At least the elevation of the mountain summits is progressively less.
A pleasant beginning at an historic home site, the Doudy-DeBacker-Dunn house, is a nice reminder of the agricultural history of the area. The rolling meadows give way to progressively heavier forests but not without first strolling through a population of wild flowers.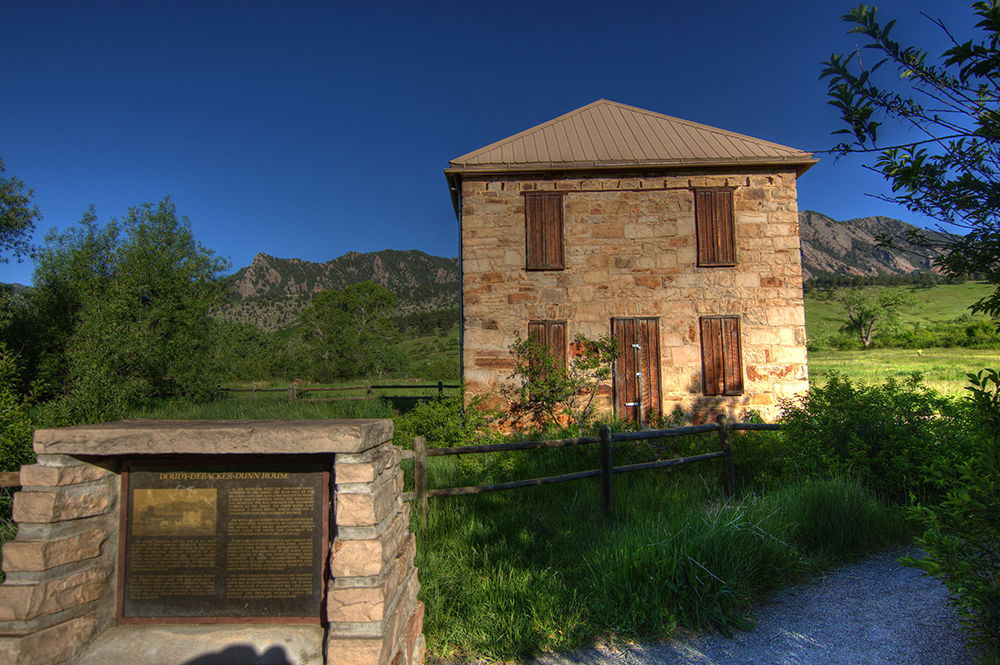 One familiar landmark along this early part of the trail is the Devil's thumb. We thought it was more of a finger, the finger that suggests we were about to enter the most challenging part of the day.
A burn-scar area from the Flagstaff fire in July of 2012 is still very present near the saddle of South Boulder Peak and Bear Peak. We gain both summits quickly. With the exception of a few other people scattered near the summit, we had South Boulder summit to ourselves.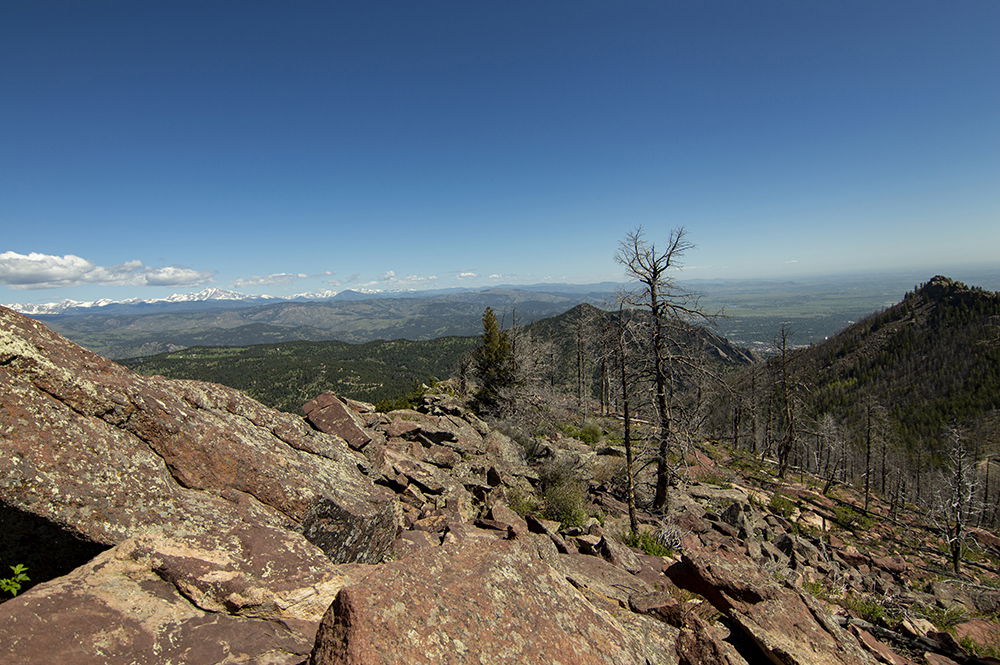 The rocky summit of Bear Peak, to the contrary, was far too crowded. Since we had both been on this summit on previous hikes, we touched the base marker and kept moving. It is a steep descent into a very pleasant Green-Bear Trail.
We rested at Bear Canyon Creek long enough for a tuna and saltine snack, filled our water containers, and reapplied sunscreen before pressing on to Green Mountain. Sunscreen SPF 30+ should be applied every 2 hours or even more often in Colorado even on cloudy days. We were climbing at near 9000 feet which means the UV radiation is 50% more intense than at sea level.
At the summit of Green Mountain is a pedestal with a bronze plate containing a map of 24 distant peaks within Rocky Mountain National Park, Indian Peak Wilderness Area, and other prominent summits. The top of Green Mountain had more room, but it was crowded too. We stopped long enough to take a few pictures - of course, a hike without an Hawaiian shirt would be incomplete. We hydrated before heading toward our fourth peak of the day, Flagstaff Mountain.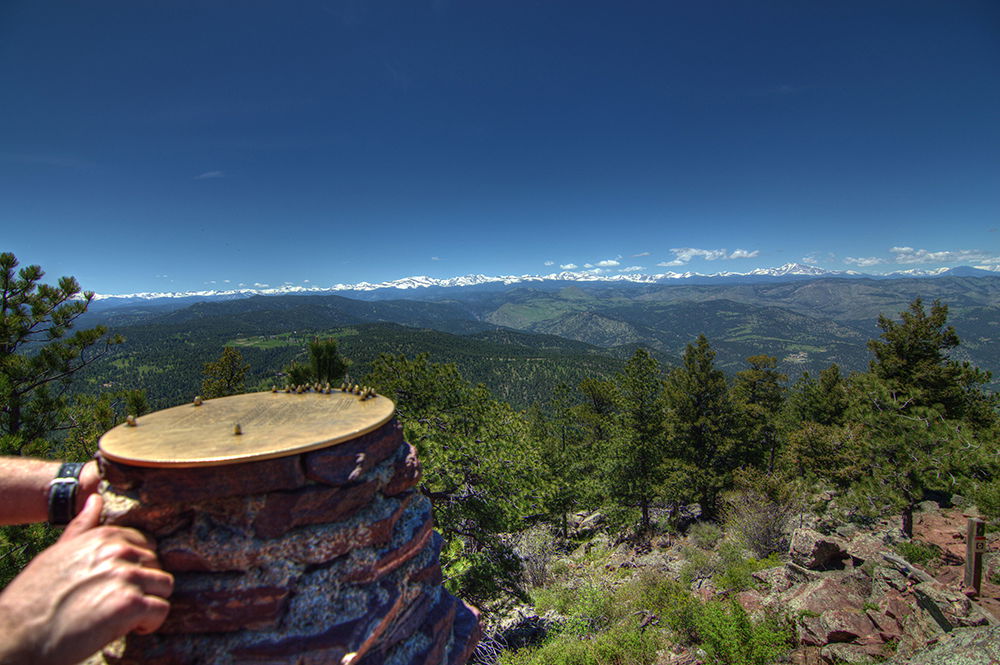 After yet another steep descent, the Ranger Trail to Flagstaff Mountain from Green Mountain is gentle and pleasant through shaded, cool forests with occasional small streams that were barely more than a trickle. We passed the Green Mountain Lodge along the way at the intersection of Ranger, Long, and Gregory Canyon Trails. This lodge was built in 1935 during the Great Depression by the Civilian Conservation Corps as part of Roosevelt's New Deal. It had recently been restored and can be rented for day-time events and picnics. The inside is decorated with historic graffiti by people throughout the decades.
Truth be told, we didn't take Ute Trail, so we missed the actual summit of Flagstaff Mountain. But in terms of elevation we called it close enough because Flagstaff Mountain has a relatively flat and long summit area. We roamed around up there for a little while trying to find a water fountain; it's a popular recreation area but they had not yet been turned on the public water sources for the season so we pressed forward. The trail crosses Flagstaff road a few times before reaching Panorama Point. The trail in this area is easily lost due to the intersecting climbing access trails, some unmarked. It's a popular place for rock climbing. Panorama Point offers a nice view of Boulder. Connect to the Viewpoint Trail from here.
The Viewpoint Trail leads to Eben G. Fine Park where we blissfully soaked our feet until numb in the South Boulder Creek. There's nothing like cold spring run off to solve inflamed feet from a long hike. Little piggies refreshed, we headed onward to our last summit of the day. Although a short 1.3 miles to the summit from the car, the Mt Sanitas Trail seemed to take forever, it is relentless and steep with several false summits. We simply had run out of the energy we had earlier in the day. Our caffeine power snacks had no effect. We pressed on by sheer will power. Reaching the top was a celebration. I believe I hugged the summit pole. I may even have expressed my love for it.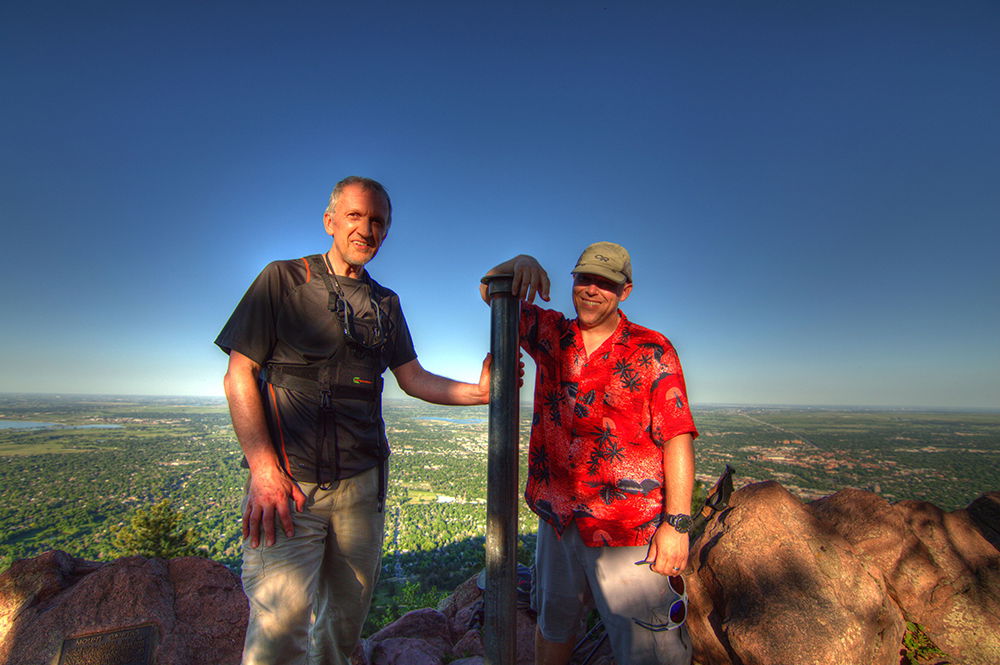 We took the East Ridge and Sanitas Valley Trails back to the parking lot. It was a little longer, but easier on the knees because the steep portion is shorter. We met a couple of young buck mule deer on the trail down. They didn't seem to mind us hanging out with them for little while.
It was an exhausting day but so very rewarding. It took us 12.5 hours. We climbed a total of 6500 feet over a distance of 18 miles. And Mr de Lassay, I must say, the frog was yummy.