When I think about Utah adventures my head explodes with options: Zion National Park, Bryce Canyon National Park, Lake Powell, Arches National Park, Moab, on and on. But what about the Uinta Mountains? What?
So, there's this 104-mile Uinta Highline Trail that traverses the Uinta Mountain Range in northern Utah, one of the few east-west oriented ranges in the U.S. I ran across this little gem in my search for trails I could knock out in a week. A few posts on YouTube and a spattering of online articles piqued my interest in this trail about the same time as a hiking buddy mentioned it was on his short list.
Either trailhead is a day's drive from my home in Colorado, which is convenient for me. This trail is not for the novice backpacker, due to it's remote location and primitive condition, but it certainly falls within my experience and comfort level. And it looked like it would fit very nicely with my desperate need to disconnect from all the distracting and depressing madness in the news lately. Ballooning inflation, politically motivated COVID pandemonium, lawless cities and immigration controls, state sponsored racism, the socialization and encouragement of gender confusion, the suppression of free speech and open dialog while indoctrinating our children in public schools with historically inaccurate information … every day it seems someone in the national media is inventing another reason to hate some group, favor another, or shut down basic freedoms. It was time for me to unplug from all that and reconnect myself to the real world, the one with dirt, trees, rocks, and water. The one with smiles, gratitude, respect, and joy.
It didn't take any convincing. I was on my way to enjoy a little slice of the way it should be.
Seth and I caravanned to the western terminus at Hayden Pass along Highway 150, an hour south of Evanston WY in the Wasatch-Cache National Forest. We dropped off my Jeep and took Seth's van to the Eastern Terminus a few hours' drive away, just south of Flaming Gorge along Highway 191.
On that first day we hiked in a few miles to East Park Lake and set up camp. No cell service. It was just the wind, birds, and an occasional coyote yelp or elk bugle. These are the instruments from which comes the most antient of lullabies. Add to these sounds the pitter-patter of rain on the tent during the night. What a great introduction to my escape. My mind was beginning to find the respite it needed.
Trails in these parts are rocky and often detoured due to downed pines. The beetle kill in the west has taken these timbers and turned the forest into a field of pick-up sticks. We maneuver as best we can, using our GPS devices to get around some of it and back to the trail, which at times is barely a single track. Markings on trees, sawed out portions of fallen logs, an occasional "025" trail sign, and cairns are the primary means of determining if the path we chose is actually the trail. Some people may find this type of trail navigation to be a bit of a nuisance, but I enjoyed the challenge and sense of adventure it brought to the experience.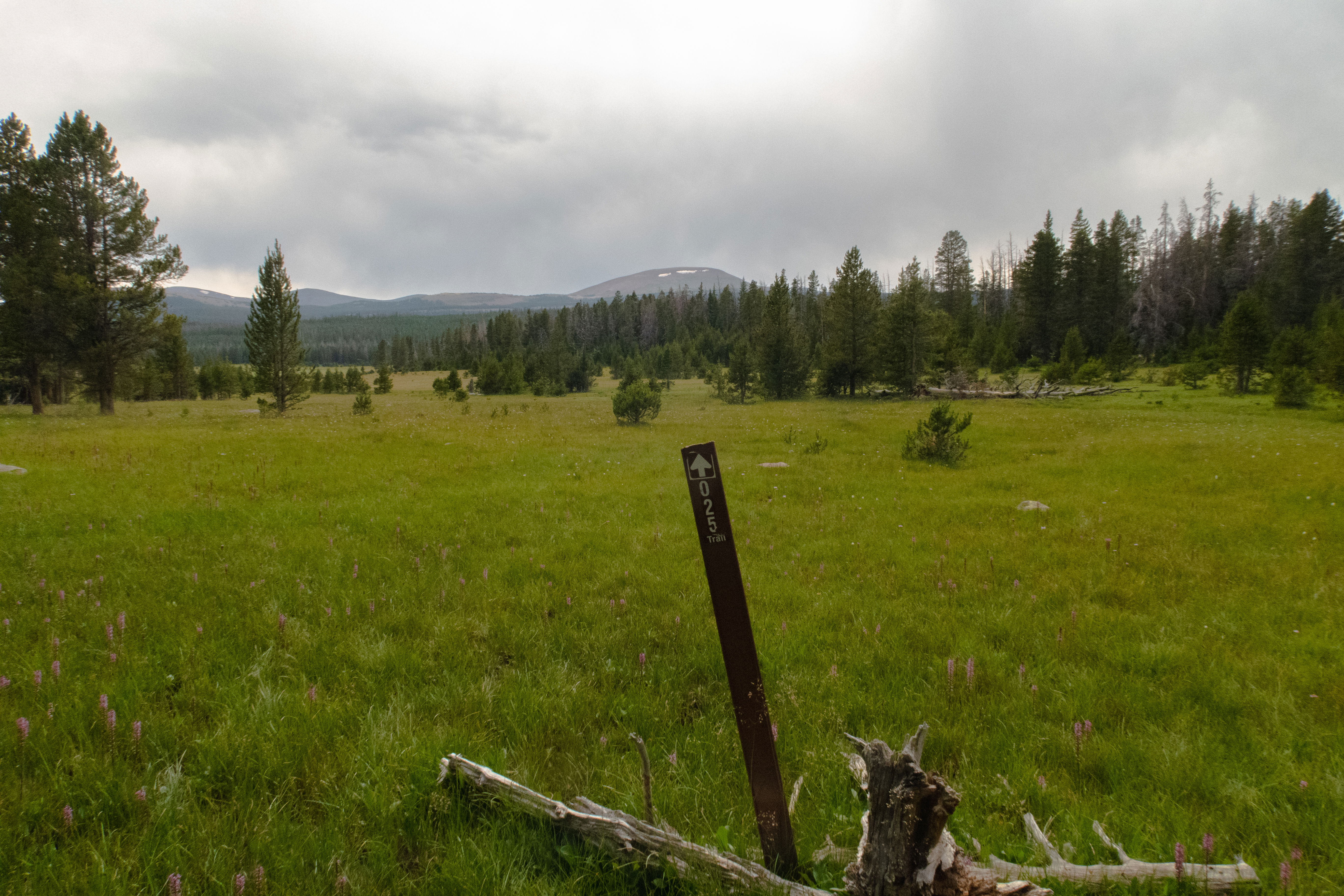 Day 2 ended in Summit Park, a large open mountain meadow in the midst of a mostly undisturbed forest, after a 16-mile section with no water sources. The day fell into a rhythm of dipping into parks and undulating through timbered hills. We would occasionally cross a forest service road. There were no big climbs, but the day accumulated nearly 2000 feet of elevation gain. The entire Highline Trail is nearly 17,000 feet in total elevation gain and nearly 15,000 feet of elevation loss.
This is a sparsely populated trail. The greatest number of people we saw during the course of any day was maybe a half-dozen at the busiest time of the year. This is one of the most alluring qualities of the trail. It's quite inconvenient for most people, requiring a bit of travel logistics with an often pricey shuttle transportation to and from the trailheads.
That second night, a coyote was very close to my tent. It let out a loud bark and yip sometime in the middle of the night. These wild K9's are usually quite skittish around humans. I recall a close encounter with one on the Colorado Trail. It was quick to dart off with a wave of my arm and a command for it to move along. When they howl and yip it's most often a form of communicating and the marking of territory. Although the shriekish sounds they make might first be interpreted as threatening, it's not something to be alarmed over. I've become fond of their presence, learning to appreciate the fact that I have become an integrated part of these wild spaces, not unlike my fur-trading ancestors were.
Day 3 introduced us to the trail above tree line. The first few miles of the hike was forest and road walking. Then our trek upward had begun in earnest with a climb around Leidy Peak to Gabbor Pass. Just below the pass we navigated around the remnant of a cornice left over from the prior winter.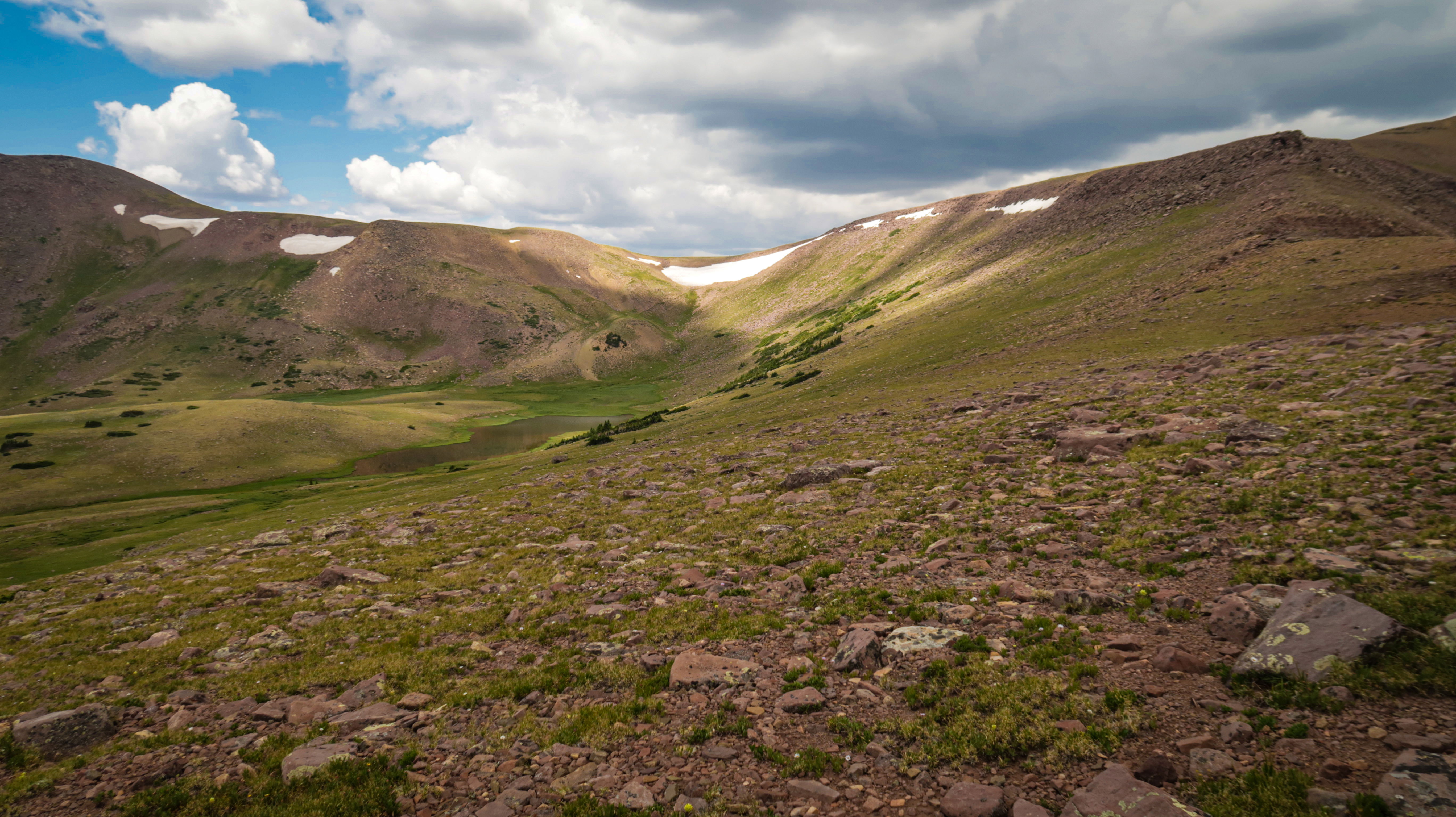 The trail around Leidy was well marked, but quite different than the GPS files and paper maps we had. This caused a bit of confusion as to which was correct. In hindsight we should have just followed the trail marked on the ground and wrote off our GPS files and printed maps as outdated. We ended up needlessly adding a couple miles to our day. No complaints. All this meant was that we were given the opportunity to spend more time in a place we love to be.
Along the path today was Deadman Lake and Whiterocks Lake. We set up camp at Chepeta Lake. By then we had put 17 miles of trail under our feet, plus to two unnecessary miles of route finding.
Day 4 started with a 1000-foot climb up to North Pole Pass. The view of Taylor Lake along the way was fantastic. The seemingly endless slog to the top of the pass, following cairn after cairn, was not. But the reward at the top was our first full panoramic view of the Uintas! Worth every step? Hell yes!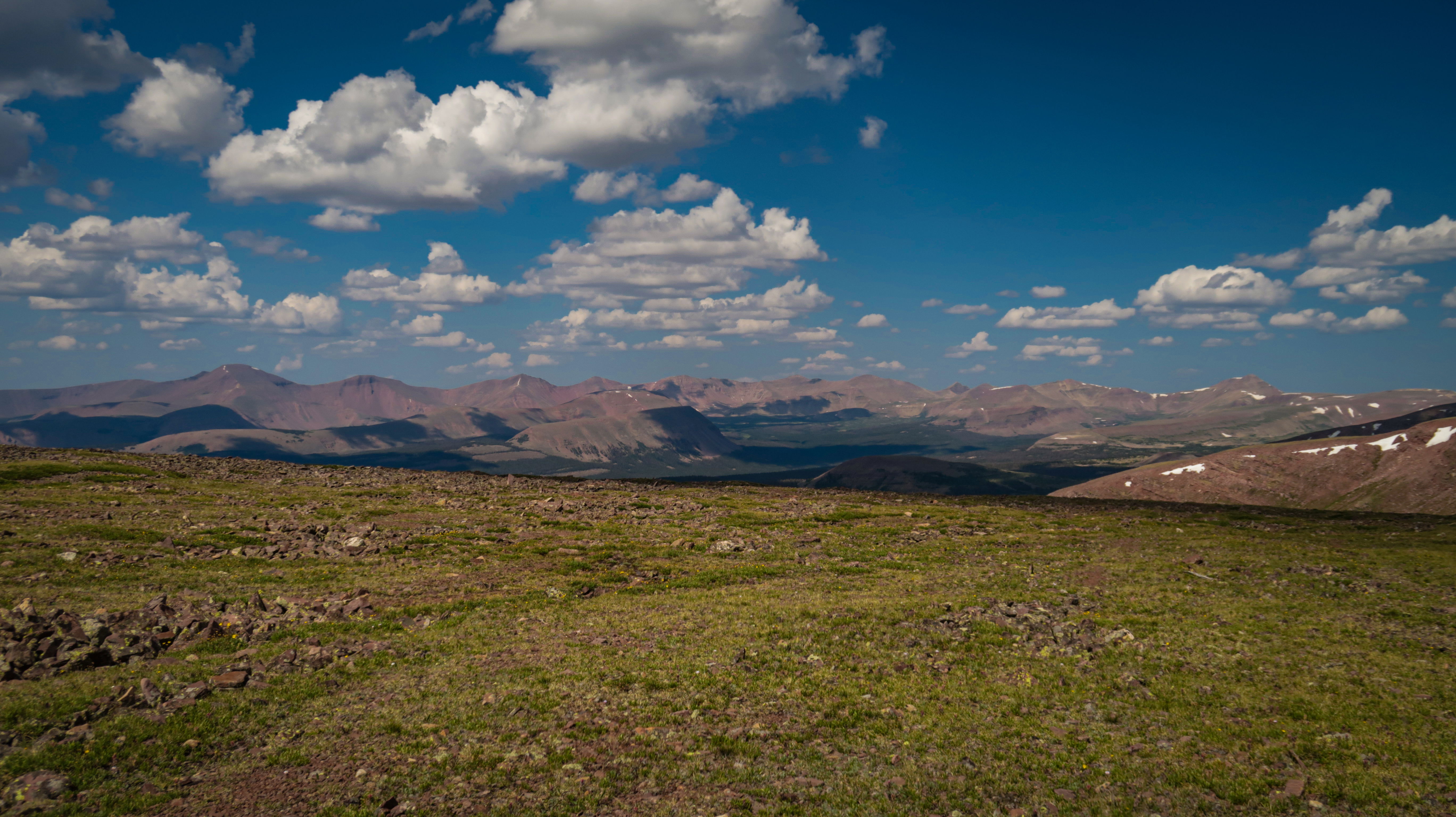 The day ended at Brook Lake, short of our intended target. Unfortunately, my old IT band injury returned, which forced us to closely evaluate our options. We had at least six more and higher passes yet to traverse. Chepeta Lake, now 7 miles behind us, offered the last forest service road access for the next 50 miles. For the rest of this trail, if my injury would worsen as it did on the Arizona Trail a year earlier, we would have only one bailout option: pressing the SOS button on my emergency device. Medivac helicopter rides out of these places are pricey. The smartest option was to go back and find a ride from Chepeta Lake.
I know this doesn't sound like a great ending, and admittedly there is a certain level of disappointment any time I need to cut a trip short, I was not disappointed with the time I did spend out here. I very much look forward to finishing this trail someday.
So, now when I think about adventures in Utah I think of the beauty and solitude of the Uinta's.