David on Earth - here's the story: a friend's young nephew who had recently heard about the biblical King David was quite intentional about distinguishing me from the more ancient and royal one of the same name. King David was obviously in Heaven; this David was on earth. It stuck. I became David on Earth.
Photographer? I take pictures. Musician? It could be argued. Writer? Maybe, if I manage to put the words in the right order. These are just hobbies of mine. And so I stood up this website to pull it all together. It's just a hobby.
What about me.
I've been a logistician, quality control and quality assurance specialist, radio repairman, management auditor, communications systems manager and controller, software programmer, data architect, business owner, technology consultant, classified materials handler, training course and test developer, service manager and engineer, psych researcher, author, statistical analyst, executive board member, radical Islamic hostage, good guy, bad guy, fall guy, whistleblower, punching bag... whatever... I've done stuff around the globe, which I have mostly enjoyed.
Sorry, I didn't bring a camera to most of these places I've been. But even without photographic artifacts I'll eventually get to writing about some of the more interesting places and experiences in the scribble on this site.
Colorado is my home now, since 1997. The mountains in any season are my solace and therapy to counter the life damaged by my 9-to-5 gig. That sounds harsh. The truth is that I don't dislike what I do for a living. However, I would rather spend my life surrounded by more beautiful things like family, friends, music, and mountain trails... a tasty beverage... things that intrinsically have far greater value and definition to who I am, a recruit to the idea that money and time are best spent on experiences rather than things.
The picture here is me on top of a Colorado 14,000 ft mountain, Quandary Peak in early 2015.
Awards and Stuff
Check this out: the blog on this site made the top 100 hiking blogs on earth!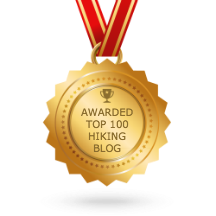 Product Tester. Gossamer Gear recently selected me to be one of their (few) gear testers. It's a nice recognition for me, it helps increase the value of some of the best ultralight gear in the industry, and when you buy your gear from Gossamer you have greater quality confidence. It's a win-win-win!!
Asking for Your Generosity.
However - shameless ad: to help keep the site up and running, I ask that you consider one of several ways to show your support.
Buy my photography. There is an option on each photo here to order prints, standouts, mousepads, magnets, etc... dozens of choices.
Buy my music. It is delivered digitally through BandCamp.
Click on product links. I receive a small percentage of any product or service you purchase using the links in the articles or advertisements on this site. When you click on these links and pay for products, you'll pay the same price as everyone else; it's just that I get a little kickback. It's not much, but it helps.
Donate $10 through secure Paypal. Click the donate button to donate $10 to help keep this site active. I won't bug you to donate again, you won't be put on any solicitation lists. Promise.
So - please, be generous - my hobbies come with expenses - crazy expenses. In advance, I thank you for your kindness!
Contact me.
OK then. I would love to hear from you. There are several places on this site to pen a few words to me. Please do. I look forward to it.
- David (on earth)